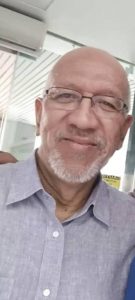 Sdr. Zaharudddin Alias (C'70), [Mohd Shah House] passed away on the morning of 17 November 2018. He was laid to rest at the Kemensah burial ground in Ampang after Asar prayers. Zahar hailed from Tanjung Ipoh, Negeri Sembilan and joined MCKK in Form 1, 1966. He was one of the stars of his batch, as he was a talented sportsman and popular. He played football and rugby for MCKK, and was the Court Games Captain in the Fifth Form Union. He was made the Deputy Head Prefect in 1972. After MCKK, he read History at University of Malaya. Zahar then did very well in Petronas, moved on to UEM and subsequently to Turnaround Managers and Trenergy, and finally, he and his family ran the Petronas petrol station along Jalan Kolam Air Lama. MCOBs and other friends dropped by his station regularly. Whenever he was there, nasi kandar, roti canai, teh tarik and others were usually on the house. His generosity was genuine and sincere. He was always the ideal host.
Zahar continued to excel in rugby after school, played for the University Malaya, Selangor and Malaysia teams. His prowess in football and rugby was legendary. However, his batchmates later found that he could not swim! While not a stage person, Zahar was reasonably knowledgeable in music.
Looking back, Zahar was a wonderful, warm, inspiring and caring friend. He had lived a full, happy and deeply satisfying life. He is missed dearly. It is as if those who knew him have not had enough of him. He is survived by his wife Puan Norshimah, daughters Nur Syerina and Nurul Dhania and son, Aman Hadi, four grand-children and a large, closely-knit family.
Allahummaghfirlahu Warhamhu Wa'afihi Wa'fuanhu.