Schools that are more than 100 years old have been given a new lease of life, in terms of funding and status. They will serve as models to the rest for their legacy, traditions and the outstanding alumni they have produced.
SEPTEMBER 11, 2001. While the world coped with the shock terrorist attacks on the United States, the old girls of the historic Bukit Bintang Girls' Schools were coping with another sort of tragedy.
That same day, demolition work began on their 108-year-old school building despite attempts to prevent it from being turned into a large urban redevelopment project on its 7.9ha piece of land.
The flag on a pole with the words SMK (P) Bukit Bintang, Kuala Lumpur, is all that remains of this school that has since been renamed SMK Seri Bintang Utara and moved to Cheras.
Established in 1893 by Christian missionaries, it was the oldest girls' school in the city and the second oldest in the country, with the oldest being Convent Light Street in Penang.
Ten years ago, the first school to pay the price of modernisation was Convent of the Holy Infant Jesus Seremban. The school, located in Seremban's town centre, was demolished to make way for planned development which incidentally, never took off.
Both the primary and secondary schools were relocated to Jalan Labu and renamed SK Puteri and SMK Puteri respectively.
If Education Minister Datuk Seri Hishammuddin Tun Hussein's efforts to preserve the heritage of such schools are not taken seriously, more such losses can be expected.
The minister announced last month that schools more than 100 years old would be given a special benchmark status to serve as examples to all schools in the country.
"In our effort to strengthen national schools across the nation, we have been identifying a set of premier schools. Such schools exemplify what we are trying to achieve in every school," he told reporters at a reunion dinner of one such school, SMK Convent Bukit Nanas, recently.
League of their own
So what sets such schools apart from the rest?
"It's not just about academic success. We produce all-rounders – students who are good in their studies, sports and have built on their talents," says former Malay College Kuala Kangsar (MCKK) principal Alimuddin Mohd Dom.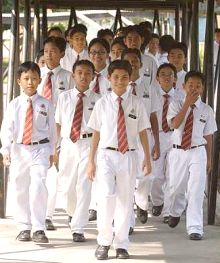 "Our traditions are very important as they drive us to always be a class above the rest," adds the longest serving local principal of the school who today leaves his current position as head of the Higher Education Ministry's Private Education Department. He assumes the post of chief inspectorate of schools from tomorrow.
Set up 100 years ago to educate future administrators of the British colonial government, MCKK was an exclusive school for the children of the upper echelon of Malay bureaucrats and rulers.
Former student Abdul Razak Ali describes it as the "precursor to Intan", referring to the country's present National Institute of Public Administration.
"After World War II, it became a secondary school…with a lot of tradition," says the Malay College Old Boys' Association's Institute for Leadership Enhancement (MILES) chief operating officer. He reminisces how the school helped prepare him for life.
"The school was modelled after the public schools in England. Boys were taught ethics, public interaction, speech, etiquette and even simple things like not to walk on grass," says the 46-year-old Muar native.
He adds that adherence to rules, regulations and leadership was very important, which most student had to learn the hard way.
"If you did something wrong, you were punished," he says.
Despite being a "kampung boy", adjusting to MCKK where English was widely used was not all that difficult for him.
"I did not have much trouble coping with the use of English and some of the English traditions in the schools as my father was formerly with the British army," he shares.
Co-curricular emphasis
However, to most MCKK students, the experience was an eye-opening one as they not only had to perform in their studies but in sports and other extra-curricular activities as well.
Historian Prof Emeritus Datuk Khoo Kay Kim says what sets centenary schools apart was this particular emphasis.
"Sports was more important than examinations back then. With football at the beginning of the year, followed by athletics, rugby and hockey, sports was not just an extra activity but very much a part of school life.
"Inter-school sports was very important and fostered a strong school spirit. The boys were also involved in the Scouts, Boys' Brigade, St John's Ambulance and other uniformed bodies," he says.
At present, the Government has made it compulsory for students to play at least one sport and be a member of at least one uniformed body and club or society as interest in non-academic activities is at an all-time low.
Brother Michael Jacques, who has served in many La Sallian mission schools, says students get a wholesome education at mission schools, which form the bulk of schools aged 100 and more.
The "multi-racial, multi-religious feature" is a strong trait of these schools, he says.
"We have a school culture that cuts across all biases," adds the 88-year-old retired educator who is now honorary adviser to the Malaysian Christian Schools Council (MCSC).
Prof Khoo says one cannot talk about centenary schools without addressing the significance of mission schools.
Recognising this, Hishammuddin said he has asked for an increase in capital allocation for mission schools, "so that they may continue to pass on their traditions of excellence into the 21st century".
He acknowledged that the mission school system was one that was "sustained by a special ethos which the alumni, students and teachers should maintain and pass on".
Need for funding
MSCS honorary secretary K.Y. Yin says the 48 centenarian mission schools in Peninsula Malaysia have educated generations of Malaysians, including the Who's Who of Society.
For example, St John's Institution was where second Prime Minister Tun Abdul Razak Hussein sent all his children while Hishammuddin's wife Tengku Datin Marsila Tengku Abdullah hails from Convent Bukit Nanas.
"This move to help our centenarian schools is a huge step in the right direction and gives hope and encouragement to those fighting a relentless battle to ensure that standards are maintained and that the welfare of teachers and students are responsibly served," the MCSC says in a statement.
While the MCSC appreciates the Government's initiative to give special help to centenarian schools, it points out that all of its schools – the youngest of which is 38 years old – are in dire need of funds to repair and renovate buildings and facilities, including badly maintained toilets, leaking roofs and termite infested ceilings.
"In fact, the most needy mission schools are in the rural areas which are crying out for basic amenities such as teachers' and students' tables and chairs.
They, unfortunately, do not have famous alumni to help them out as benefactors," says Yin of the 462 mission schools nationwide – 338 primary and 124 secondary.
Hishammuddin has said that the infrastructure and facilities of these schools will be upgraded under specific development assistance in the Ninth Malaysia plan as part of the Government's effort to strengthen national schools.
Schools that are over 20 years old numbering some 6,721 will be next in line for development so no one will be left out.
"We thank the Education Ministry for being sensitive and responsive to the needs of all our mission schools which are playing an important role in helping the country educate Malaysian children irrespective of race, religion or socio-economic background to become responsible and productive citizens and leaders," the MCSC says.
Abdul Razak feels times have changed and with it traditions.
"When I was in MCKK we had high tea. Now we have teh tarik in the evening.
I feel things like high tea should be maintained as they provided me with etiquette training which helped when I went on to further my studies in the United Kingdom.
"Traditions must remain," he stresses. In all fairness, most schools have made a conscious effort to retain their heritage and legacies. Take for example, Victoria Institution's brass and bagpipe band; St Paul's (Seremban) and St John's institutions' football and hockey teams, MCKK's rugby team, the infamous debaters from these schools and of course, their consistent good show in all public examinations.
"We are proud of our heritage and are working hard to preserve it," adds Abdul Razak.
Thanks to the Education Minister, things are being put in motion to do just that.
"We shall encourage all our schools, old and young, to learn from the good examples everywhere, especially those close to home," he said.