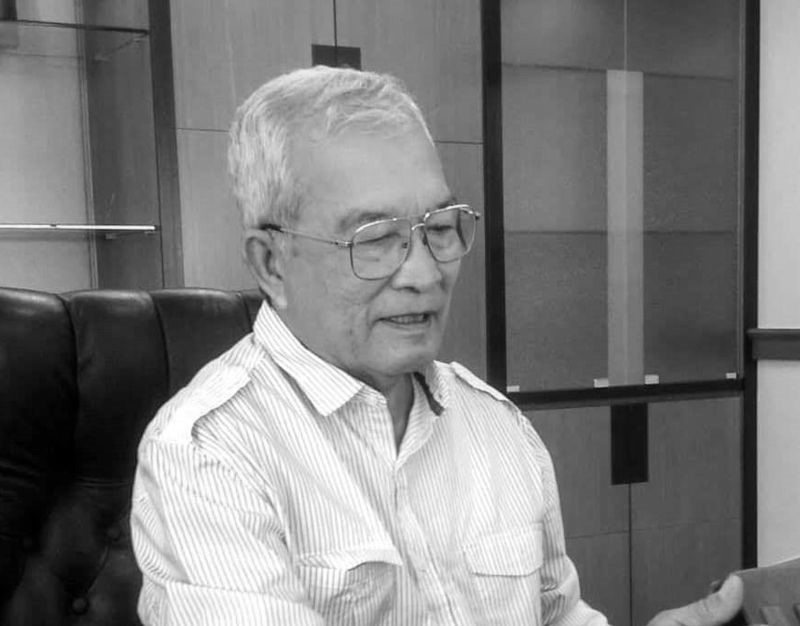 Remembering a life well lived for a former Minister of Sports and Youth, a former Deputy President of the Malay College Old Boys Association (MCOBA), friend, and a brother, is really a personal sad farewell. Arwah Dato' Mokhtar Hashim (C'60) always used to say, "The universe conspires…". At times, I feel that the universe failed us for our dear beloved friend and brother had left us today.
The morning of Wednesday, 18 November 2020, a flurry of condolences messages kept streaming into my phone, broadcasting the death of Dato' Mokhtar Hashim, Idris House, Patikan C'60. He died peacefully at the age of 78-year-old at the Hospital Ampang. Apparently, he has a severe stroke at 8.00 p.m. the night before. The conformation forwarded message of his death by his wife, Datin Bahariah Yusuf and later another on behalf of his son Imri and Sany laid down the final arrangements of his funeral, as follows:
وَاِنَّااِلَيْهِ رَاجِعُوْن
Assalamualaikum WBT,
On behalf of the family, I would like to inform the return of my beloved husband, Dato' Mokhtar Hashim to Rahmatullah at 3.10 am, Wednesday 18 November 2020.
Funeral prayers and funerals will be announced next.
Please join us in praying that his soul will always be showered with His grace and placed with His servants who believe and do good deeds. Aamiin Ya Allah 🤲🏼
~ Datin Bahariah Yusuf
For those of us who had the privilege of knowing Dato' Mokhtar Hashim, we shall always remember him as an affable man, an Abang or elder brother or some 'Panjang' that is always there to give advice and provide wisdom. Very humble, jovial, friendly and approachable person. He was from the Class of 1960, or the Patikan, a Deputy President of MCOBA 2006, the Honorary Secretary of MCOBA 2014-2016.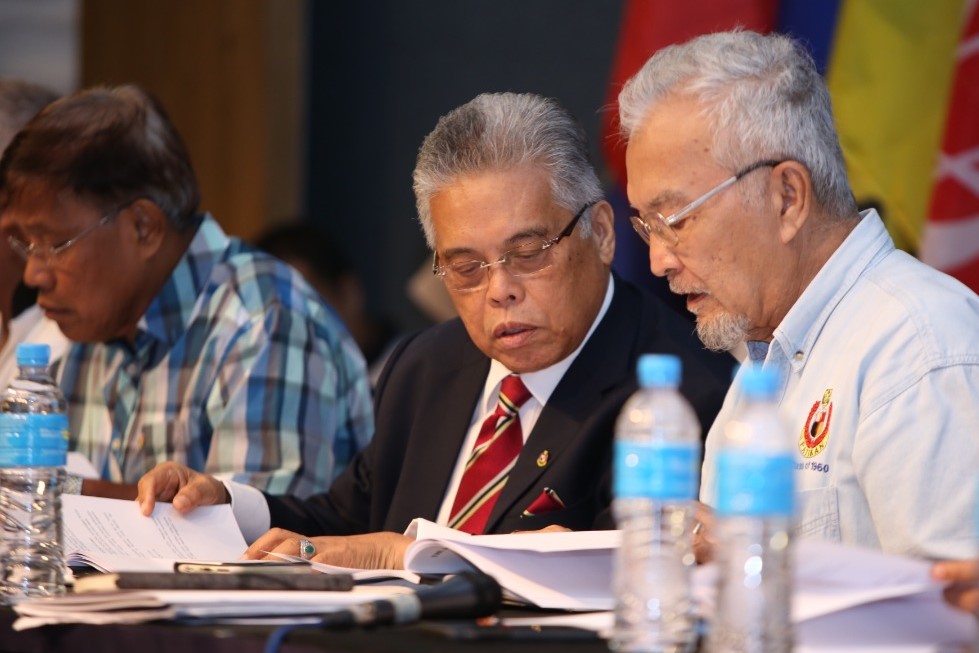 Born in 1942, he went on to MCKK and was also a prefect in charge of Dorm C, Prep School in 1962. He was also the Deputy Headboy of MCKK in 1962. If his acquired interest in MCKK has been followed true, he would have been the country's top scientist due to his interest in science as taught by Mr. P.A. Norton, the science master & senior assistant during his MCKK days. He went to University of Malaya to study geology. I was told that he was a researcher at Harrison & Crossfield when he was plucked by the late Tun Razak, another MCOB to enter politics. In 1972, he won the Rembau – Tampin parliamentary constituency, and  he was appointed Parliamentary Secretary to the Minister of Culture, Youth and Sports. He had a meteoric rise in politics as in 1974 he was a appointed Deputy Minister of Agriculture and Rural Development, a Deputy Defence Minister in 1976, a Deputy Foreign Minister in 1979 and a full Minister of Culture, Youth & Sports (1980- 1983) at the age of 42, rare at that time.
I have written many eulogies of many good MCOB friends who has passed away during my time whilst in MCOBA and I'll always write about their goodness & fine virtues during my interaction with them. It is a remembrance of the goodness of one's soul and not to judge a book by its cover. I shall never delve into the past or bring up the mistakes of the past. Man is 'Asraf Ul Makhloqat' meaning 'the most eminent of created beings'. The uniqueness of man consists in his possession of a soul. Allah S.W.T wants our soul serene and pure and as a blessing, He made conscience in a man. And only Allah S.W.T knows.
I could write and fill up pages after pages in celebration of his life and legacy, but I'd still fall short. I'll treasure his simple gift of friendship, and remember him for what he was. Warm, sincere, generous, uncomplicated. He'd always be a lovely and loving husband, father, father-in-law and grand-father.  And a champion and a beacon that will continue to inspire and shine on his family and friends. He leaves behind a wife; married for 51 years, two grown- up sons, Imri and Sany and many grandchildren who loved him very much. A daughter has passed much earlier and Dato' Mokhtar was buried near to his dear departed daughter Amy's grave (who passed away 4 years ago) at the Bukit Kiara Muslim cemetery.
His son, Imri Mokhtar is from the Class of 1990 and the Headboy of MCKK in 1990, currently the CEO of Telekom Malaysia.  Another MCOB, Tan Sri Azman Mokhtar C'78, the former MD of Khazanah Nasional was his nephew.
His last passage rites and ritual was done quickly and smoothly from the Hospital Ampang to the bathing rites & funeral prayers at Masjid At-Taqwa, TTDI, KL in accordance with the standard SOPs for funeral with the onslaught of Covid-19.
There was quite a considerable crowd who came to pay their last respect but the funeral prayer was limited to 20 'makmum' for each funeral prayer. The funeral prayers were done several times. Many would have like to accompany the hearse to his final burial place but the limitations of people to the cemetery was limited by the SOPs.
Dato' Mokhtar Hashim was the quintessential gentleman; a perfect gentleman of gentlemen. One of those rare Malay gentlemen; a product of the Post Merdeka generation: patriotic and ever ready to be thrust into leadership positions. This was apparent when he was entrusted to lead and mentor the young First Formers at Prep School, MCKK as their prefect. The newly sparkling young independent nation was also on the lookout for inspiring young Malay leaders like Dato' Mokhtar to lead the way.
But what we shall miss the most was his wonderful sense of humour, his takes of yesteryears that could brighten up any room and make a glum gaggle of friends especially his Patikan batchmates roar with laughter and smile with tears of mirth in their eyes.
He won't easily be forgotten and will surely be missed by family and friends. He was kind, warm, good hearted, of high integrity, intellect, charming and most of all truly dedicated in the service of King and Country. The nation has loss a good public Officer and a Gentlemen.
While it is with a certain sadness that we mourn his passing, we know, with absolute certainty that he would want us to remember the good times, the great times and also the wonderful legacy and memories that he has left with us all.
He has carved his name on our hearts, not on his tombstone. A legacy is etched into the minds of others and the stories they share about him. He shall always be remembered well, as the elderly Abang as he always addressed himself, but more so readily as Panjang, an uncle to all, a respected beloved extended 'family' member. We bid you farewell and may you rest well in internal peace.
His death is a big loss to the country, especially in the field of culture, youth and sport. Negeri Sembilan has loss one of his illustrious son and MCOBA has loss a passionate Old Boy who takes pride in being educated at MCKK.
Please let's all pray that his soul will always be showered with His grace and placed with His servants who believe and do good deeds.  May Allah S.W.T forgive his transgressions and place him with all the righteous believers in Akhirat. Aamiin Ya Allah 🤲🏼