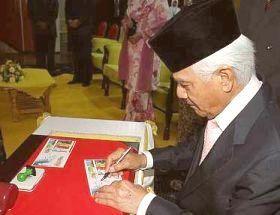 KUALA KANGSAR: Pos Malaysia Bhd has issued a new series of stamps and first-day covers to commemorate the 100th anniversary of the Malay College Kuala Kangsar (MCKK).
The stamps, in denominations of 30 sen and 50 sen, feature the college's famous landmarks – the Big School, the Prep School and the Big Tree.
The Big School is currently the main hostel for the seniors while the Prep School houses first-year students.
The famous Big Tree has been around for a long time, said to be as old as the school itself.
There is also a miniature sheet, retailed at RM2, which features the four founding fathers of MCKK.
Sultan of Perak Sultan Azlan Shah launched the stamps and covers at the college's Hargreaves Hall yesterday.
At the launching ceremony, four men brought in the stamps and first-day covers and handed them over to Sultan Azlan Shah, who later signed them.
In a symbolic gesture, the signed covers were then handed over to postman T. Vasu, who in turn handed it over to MCKK principal Mohd Rauhi Mohd Isa.
Among those present at the ceremony were Perak's Raja Permaisuri Tuanku Bainun, Raja Muda Raja Nazrin Shah, Menteri Besar Datuk Seri Mohamad Tajol Rosli Ghazali, Malay College Old Boys Association president Tunku Datuk Seri Adnan Tuanku Besar Burhanuddin and Pos Malaysia and Services Holdings Bhd chairman Tan Sri Adam Kadir.