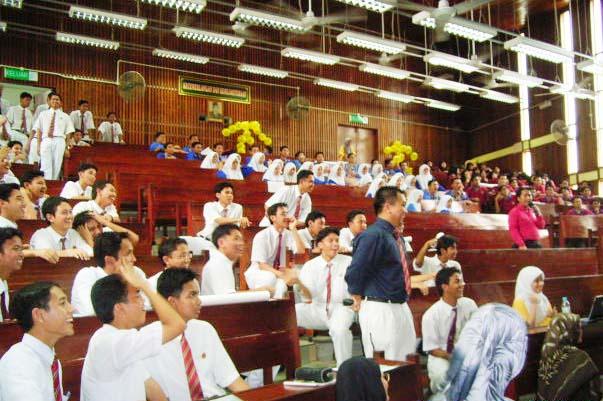 PETROSAINS organised a Career Day at the Malay College Kuala Kangsar (MCKK) for students and teacher counsellors from secondary schools around Kuala Kangsar. The 200 participants were given the opportunity to interact with successful professionals on various exciting career possibilities in the field of science and technology, especially in the petroleum industry.
On hand to share their experience was a team of geoscientists from PETRONAS Carigali Sdn Bhd, comprising Rahimi Faizal Ibrahim, Yusliza M Sufian, Nurhakimah Mohamud, and Ahmad Faisal Bakar. The participants were also exposed to a series of interesting displays, presentations, discussions, and talks during the interactive and fun-filled activities brought to them by PETROSAINS. The PETROSAINS Career Day was initiated in 2001 and the event in Kuala Kangsar was the eighth in its series and the first outside the Klang Valley.
It was aimed at promoting science and technology in the petroleum industry with the objective of offering the target audience an insight into developing their career path in this industry. Through endeavours such as this, PETROSAINS hoped to help in the development of creative and innovative thinkers, scientists and technologists. The Career Day was one of PETROSAINS' initiatives to help and encourage youths to pursue knowledge and broaden their experience in order to excel in today's K-economy and to meet the challenges of globalisation.
In his welcoming remarks, PETROSAINS Head of Programmes, Encik Kamaruddin Kassim, explained that it has always been one of PETROSAINS' main objectives to contribute to PETRONAS' effort in producing a more innovative, professional and science literate workforce for the future.
"At PETROSAINS, we see education and information as key success factors in realising this process. Thus, we focus our efforts on the young and their influencers, namely their parents and teachers. The imagination, ideals and energy of young people represent a vital source for the continuing development of our community and country. We can help make a difference by informing, sharing knowledge, encouraging participation and showing them that they have an important role to play in meeting the challenges of the new millennium," he said.
"The energy business is unique as it not only has a huge impact on global development, it also offers international career prospects and outstanding challenges. PETRONAS is at the heart of the energy and petrochemical business, and is one of the country's most successful organisations. With that, we always recognise that we are also a part of society and that our success as an organisation is intimately linked to that of society.
So, at PETRONAS we are totally committed to a business strategy that always balances profits with principles. A career with PETRONAS promises vast opportunities, continuous challenge as well as personal and professional growth. The PETROSAINS Career Day highlighted some of the opportunities available not only in PETRONAS and the petroleum industry, but also science- and technology-driven industries as a whole," said En Kamaruddin.
Report by:
Ariff Adry Adnan @ Bullet, Class of '97
Business Development
Petronas MITCO