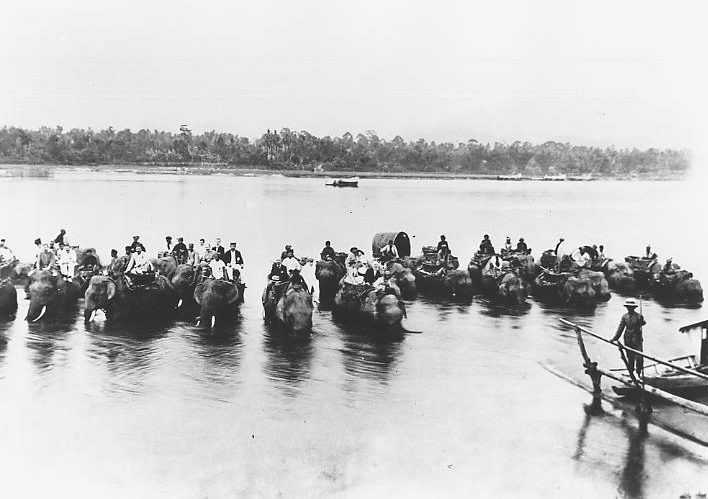 A friend recently asked me "What's so special about MCKK, and it's connection with the Raja-Raja Melayu?" Well, for those who have the same question, I append below the Syair, a Malay poem, which was recited during the Centenary Celebration on 26 March 2005 (just when the procession of elephants was entering the MCKK grounds).
Seratus tahun telah berlalu,
Tersergam gagah, Malay College yang satu,
Wawasan murni Raja-Raja Melayu,
Agar negara makmur dan maju.
Empat Raja, empat negeri,
Di Kuala Kangsar mencemar Duli,
Berbincanglah Tuanku, pendapat diberi,
Agar Melayu memerintah sendiri.
Sultan Ahmad, Raja di Pahang,
Rombongan gajah dan hulubalang,
Merentas hutan dan gunung ganang,
Di Kuala Kangsar, sedia berbincang.
Sultan Suleiman, bersemayam di Jugra,
Perjuang kedaulatan bangsa dan negara,
Bijak berhujah, bijak berbicara,
Mendidik Melayu menjadi perkara.
Yam Tuan Negeri, Tuanku Muhammad,
Muda dan segak, bijak teramat,
Menuntut agar Melayu dimartabat,
Di negeri sendiri, negeri berdaulat.
Sultan Idris, di Perak bertuah,
Bersuara lantang, kembalikan maruah,
Mendidik Melayu di sebuah sekolah,
Menjadi pemimpin, pentadbir berhemah.
The Malay College sekurunlah sudah,
Di Kuala Kangsar nan serba indah,
Warisan bangsa dan negara bermaruah,
Wawasan di Raja sebagai wadah.
Perayaan ke seratus meriah berseri,
Raja-Raja berkenan mencemar Duli,
Bersama rakyat turut merai,
Sejarah dan budaya penghormatan diberi.
Watikah dibawa, niat nan suci
Gajah bertujuh gagah kemari
Sedia menyembah mengabdi diri
Bukti besar kuasa Illahi
Tujuh gajah dihias berseri
Angka nan ganjil dalamnya erti
Tujuh langit berperut bumi
Kuasa Tuhan kita insafi
Menjunjung kasih Duli Tuanku,
Atas sokongan diberi Tuanku,
Menjadi penaung Malay College yang satu,
Semoga Allah beri petunjuk selalu.
Kepada para hadirin sekelian,
Marilah kita sama doakan,
Wawasan dan jasa akan berterusan,
Sekurun lagi MCKK berkorban.
Nukilan Jak Li.