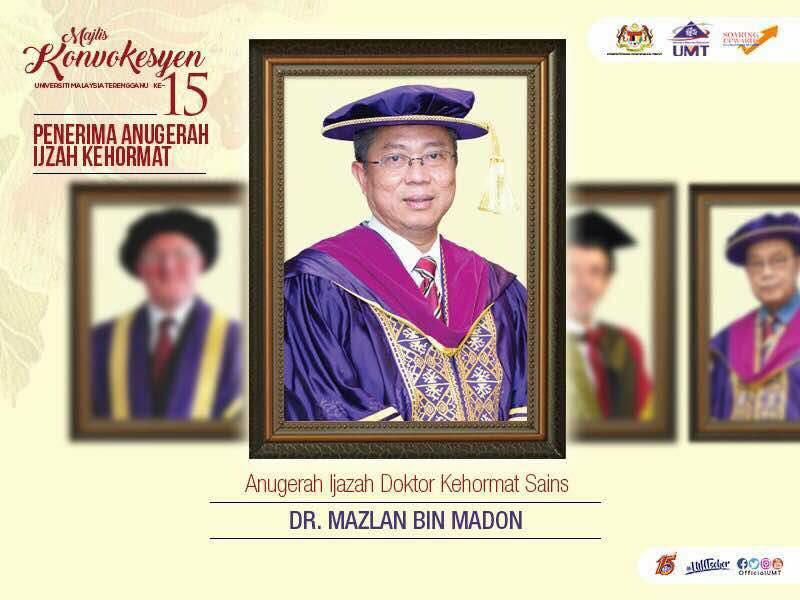 Recently, the University Malaysia Terengganu (UMT) awarded the honorary Doctorate of Science to a good friend and a MCKK junior from C'78, Dr Mazlan Madon or Doc Melon as many affectionately know him as. Tahniah and congratulation to a geologist who has made a mark in the Science of Geology locally and internationally. Another outstanding yet unheralded Malaysian and Budak Koleq.
If you were to Google the name Mazlan Madon, there are numerous research papers, achievements and numerous positions in his resume. Amongst others would include Member of Commission on the Limits of the Continental Shelf (CLCS), United Nations 2012-present; Petroleum Geologist and Sedimentologist, formerly at PETRONAS for 33 years; Immediate Past-President of the Geological Society of Malaysia; Fellow of the Academy of Sciences Malaysia.
Yet, Dr Melon remains a humble and simple man; modest and a non-assuming person. He was 2 years my junior at MCKK and also two years my junior at Southend-in-sea, UK where we did our A-levels. I did not have a year junior from MCKK at the Southend College of Technology but when I was about to to University, a handful of them from Serpents C'78 came to Southend and Doc Melon was amongst them, apart from Julod, Dato' Tad, Adnan Bulat and Wank; many on PETRONAS scholarship.
As Budak Koleq being Budak Koleq, they rented a house at Ramuz Drive and that house became my squatting place whenever I came down during semester break. There were many memories at Southend and Ramuz Drive. What happens in Ramuz Drive stays at Ramuz Drive. Dr Melon met his current wife, Flora at Southend who was also in the same batch of A-levels.
When Doc Melon took over my bedroom at my rented house in Maldon Road in 1981, I never went back Southend again nor did I meet the boys again until the invent of internet and email. All I heard of Doc Melon was that he went to University Southampton, came back to Malaysia to start a geologist career at PETRONAS, married Flora, did his Masters at UM and his PhD at University of Oxford, UK. Currently, Dr Mazlan Madon and Flora Shahab are based in New York, USA with Melon working under the auspices of the United Nations (UN).
So, my old friend of 43 years, congratulations on your Honorary Doctorate of Science. You make us Malay Collegian and Southenders Gen 2 proud! What a remarkable journey for a village boy from Sedili, Johor! Luaskan kuasamu Bangsa Johor (Expand your Johore race).