Liew Yong Choon is the first Chinese to be inducted into the Malay College Old Boys Association (MCOBA) and with it, the privilege to wear the college tie. Why? The police officer spent a lifetime training the MCKK boys play basketball.
ARMAN AHMAD (NST) finds out what drove him.
MY story begins back in 1974 when I met a boy in Kuala Kangsar. He was desperately trying to make a phone call to his hometown. His name was Abdul Aziz Salleh. He was a first former at the Malay College Kuala Kangsar.
I was waiting to use the phone as well. But Aziz was in a bit of a hurry. He told me that he needed to be back at school before 4pm.
Since he was running late, I told him that I would send him over on my Vespa.
On the way to the college, we chatted a bit. I knew some of his teachers, who were my friends. I asked him what sports he played. He mentioned basketball.
At the time, I was 26, and teaching economics and accounting at a school in Taiping. I had graduated from University of Malaya with a degree in economics a few years earlier.
My friend Tan Chan Thaing, a physics teacher, was in charge of the basketball team. He knew I was a state player. When I asked him for permission to train the boys, he readily agreed.
Together with Tan, I selected a team and put them on a regimented training programme. The boys in the 1974 Cagers included Riza Amarullah Beg, Aznir Malek, Raja Azman Shah, Samsuri Sawari, Hasnol, Halim Hussain, Hasman Yusri, Ikmal Hakimi, Ramlan Aziz, Rozlan, Md Johari, Wahid Tahir and Burhanuddin.
I started training the first formers but as time went on, the senior team joined in.
I soon realised that many of them had talent. They picked up the game fast, even though they were at a disadvantage compared with their Chinese counterparts who began playing from primary school. In those days, basketball was rarely played by Malay boys.
Despite their lack of experience, the MCKK boys were disciplined, dedicated and outstandingly committed. They were obedient and willing to learn.
I was intrigued. At first, I taught them on a voluntary basis, but later I became deeply involved with the team.
In 1975, I joined the police force, as an ASP cadet officer.
Although I was stationed in Kuala Lumpur, I still coached the team, returning to Kuala Kangsar during my days off.
Almost all of my holidays were spent training the boys. I was a familiar sight at the east wing basketball court in those days, although I was not a teacher or officially engaged by anybody to coach the Cagers.
It took me three years to get them up to mark, but they finally became champions — winning the Tun Hamdan Tahir Cup in 1977.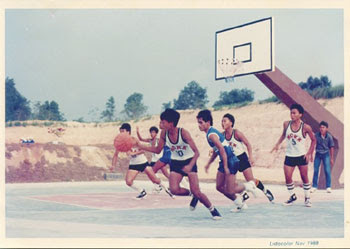 From then on, the MCKK Cagers became a formidable force. They were respected and feared by the teams not only from boarding schools but also from other schools in Perak.
The boys were a crowd favourite as well. We organised a lot of friendly matches with the locals to get them well prepared.
I would bring the boys into Chinese areas in Perak. Places like Liman Kati and Kampung Station in Kuala Kangsar, Jelapang, Menglembu, Setiawan, Bercham, Pulau Pangkor, Pokok Asam and Manjung.
Wherever they went, the team attracted crowds. The Chinese residents would wonder whether the Malay boys could play good basketball. There were a lot of Malay boys playing football those days. But basketball?
Through basketball, the MCKK players started to interact with other races. There were days when local Chinese players would visit our players in their apartments after matches. They would talk about basketball, and soon enough they became friends.
You know, it is true what they say about sports being one way to make friends.
From my own experience, I saw how this game promoted racial integration and harmony.
This was what sustained me all these years — watching how the game built ties between the races.
I took pride in bringing an all-Malay basketball team to play in predominantly Chinese areas, and watch the team become a crowd favourite.
In 1988, I was the vice-president of the Malaysia Basketball Association (MABA) and was selected as the team manager of the national team.
During this time, I had to focus all my time on training the team for the 1989 Sea Games but was rewarded when Malaysia won the gold medal. (The team won its first and only gold medal at the Sea Games.)
But when it was over, I went back to my hometown and the east wing where the basketball court was, and continued to train players.
We won again in 1992.
The MCKK Cagers have won the Tun Hamdan Tahir Cup 13 times — in 1977, 1979, 1981, 1982, 1983, 1985, 1992, 1993, 2004, 2005, 2006, 2007 and last year.
Last month, I was inducted as an honorary member of the Malay College Old Boys Association (MCOBA). (He is the second honorary member, and the first Chinese to be honoured and given the right to wear the college tie.)
I have a high regard for these boys, having spent three decades with them.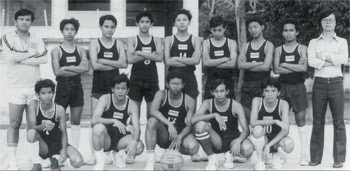 While their names and faces change each year, one thing doesn't change. And that is their spirit.
All the boys who have been trained by me thus far are well disciplined, committed and obedient. These qualities have given me the strength to continue coaching them for the last 30 years. They not only performed well on the court, but also excelled in their studies. I am truly proud of these budak Koleq.