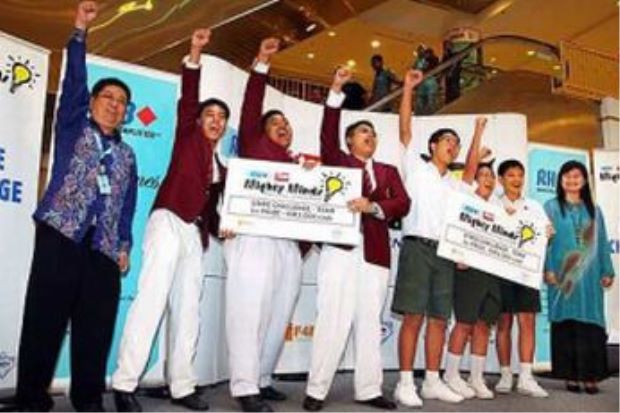 IPOH: Cool heads give mighty leverage, as the team from Malay College Kuala Kangsar proved when they topped the upper secondary category in the RHB-The Star Mighty Minds state challenge.
They will now represent Perak in the national finals in October.
"We did not have much time to prepare for the challenge as we were asked by our teachers to take part at the last minute. We just told each other to relax, not to be over-confident and have fun," said Muhammad Arsyad Azrai Abdullah, 17, after the competition on Sunday.
Another team member, Ahmad Akmal Adnan, 17, said they were now looking forward to the finals.
"We will strive to do our very best to make Perak proud," said Ahmad Akmal.
SMK St Michael came in second while SMK Sam Tet was third.
In the lower secondary category, SMK Sam Tet fared better and took home the top prize. The team, comprising Mah Song Wei, Ryann Sim Wei Jian and Ding Zuohan, all 14, will represent Perak in the national finals.
Mah said his team took a month to prepare for the challenge by studying notes and reading The Star's F123 pullouts.
As for Sim, he said the hands-on segment was challenging as it put their creativity to the test.
"We really thought hard to come up with a working and attractive design," he said.
The champions from both categories won RM3,000 and a desktop computer for their school.
The competition, which is jointly organised by Star Publications (M) Bhd and RHB Banking Group, will head to Sabah this weekend. The food and beverage partner is McDonald's Malaysia.
If you are a secondary school student from Kedah, Penang or Selangor, you can still get involved. Visit www.thestar.com.my/mightyminds for information or to download registration forms.
For an added edge, subscribe to F123 and F4F5, The Star's Science and Math guides that contain tips for the contest. Call 03-7967 1388 ext 1040/1043 from 9am to 5pm (Monday to Friday).