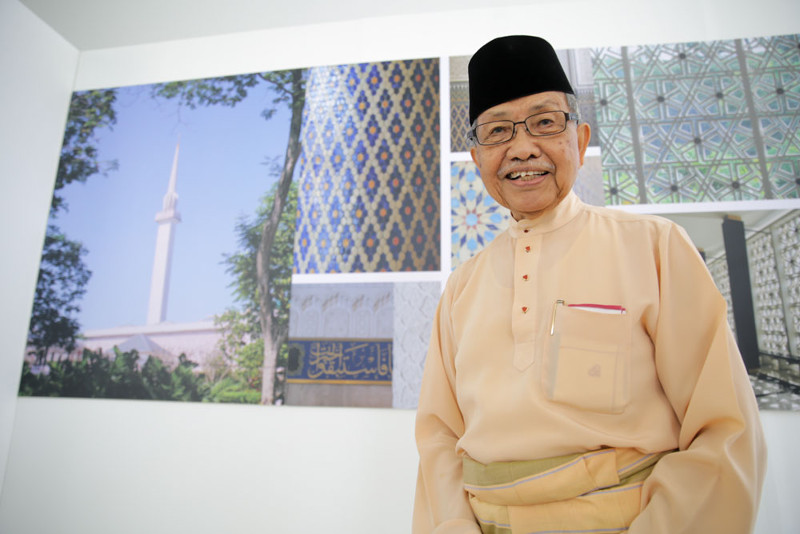 KUALA LUMPUR, Sept 5 — With its iconic "blue umbrella" dome, Masjid Negara (National Mosque) is the most recognisable mosque in the country, possibly the region. Yet the earliest reactions to its design sketches weren't ones of awe but of confusion.
According to Datuk Baharuddin Abu Kassim, the architect responsible for the Masjid Negara's contemporary look, "The first thing Tunku Abdul Rahman, who was the prime minister at the time, asked was, 'Where is the dome?' He was expecting a traditional semi-spherical dome, you see."
Fifty years later, this unconventional "umbrella" dome remains the most striking feature of the beloved Malaysian landmark. As Masjid Negara celebrates its Golden Jubilee — it was officially opened on Friday, August 27, 1965 — with a pictorial exhibition, which starts today, we turn to the man behind its design to unravel the mystery of the dome.
Datuk Baharuddin would be the first to tell you that he came from humble beginnings. The soft-spoken 86-year-old recalls, "I was born in Kuala Selangor and my ancestors were from Bugis stock. My father was in charge of a coconut plantation so I grew up climbing coconut trees. They were the first things I remember drawing!"
Family played, and continues to play, an important part in the esteemed architect's life. "We were all very close. My father was one of three siblings; I had an uncle and an aunt. I, in turn, had three children, and they each have three children too. It's a nice lucky number," he says, chuckling.
His "luck" continued when he was chosen as the only student from Kuala Selangor to attend the prestigious Malay College Kuala Kangsar (MCKK). "To be honest, I had no idea of what profession to pursue, so entering MCKK allowed me to get a strong education. It was a regimented life, being a boarding school, but I was already used to that as my father disciplined all of us growing up."
For his further education, Datuk Baharuddin had his eye on pursuing medicine at University of Malaya (then in Singapore). "It was something familiar, you see; I've visited Singapore before. My friends were all trying to go overseas but I didn't think I stood a chance. You needed a scholarship."
To his surprise, he was offered the opportunity to study architecture in England. He was excited but the decision to go wasn't an easy one. "I was afraid that they'd have me go via a ship and I'm afraid of sailing. Everyone else in my family is fine on water but I get seasick! Fortunately, they had me take a plane but even then it was arduous: I had to change several times in Ceylon (now Sri Lanka), the Middle East, and so on before I landed in England three to four days later."
The quick-witted octogenarian pauses, before adding, "Still, that is better than three weeks on a ship, correct?"
Datuk Baharuddin studied at the University of Manchester, something he is still grateful for due to the racism he first encountered in Southern England. He recounts, "People treated you different as a foreigner in London. When I got to Manchester, there was still a 'colour bar' there but it wasn't so bad. The Mancunians, once they learned where I was from, got very curious. They asked me if Malayans lived on tree tops. I had to disappoint them with my answer."
In fact, Datuk Baharuddin fondly remembers being "adopted" by a local family who insisted he visit them every weekend. "This meant a lot to me because I was so far away from home and my family obviously couldn't afford to fly me back during the holidays. But it wasn't so bad, other than the terrible cold weather. I was surprised to learn we had more to eat in Malaya than in England at that time, right after the war. Food supplies were still scarce."
When he returned to Malaya, Datuk Baharuddin worked at the Public Works Department with fellow architect Hisham al-Bakri, together under a British supervisor, Howard Ashley. This was the trio that was selected to design the national mosque, an idea mooted by then Prime Minister Tunku Abdul Rahman, to commemorate the country's independence.
"For Tunku Abdul Rahman, the mosque represented the unity of all Malaysians," says Datuk Baharuddin. "Our challenge was to design a mosque that was modern yet still had influences of traditional Malay architecture."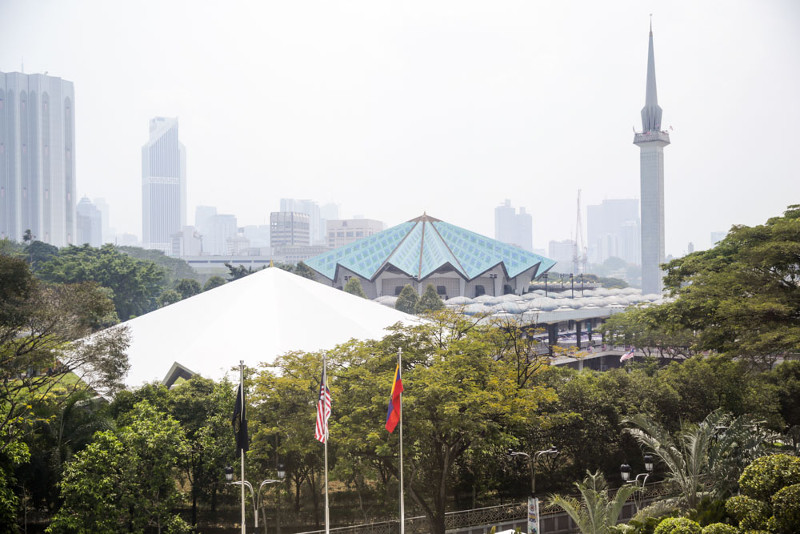 He recalls being inspired by how royalty would always be escorted with an umbrella when stepping outside. "I thought the umbrella would be a very good symbol because of this. But I couldn't design a round umbrella because we had to use concrete, and that meant straight lines. Then I thought of the payung kertas — a folded umbrella, which had the straight lines I needed."
Hence the mystery of the dome is explained. The final design for the mosque featured a main dome that resembles a semi-opened umbrella with 16 points. Even its 73-metre-high minaret resembles a folded umbrella.
Masjid Negara took five years to complete; its opening was officiated by the third Yang di-Pertuan Agong Tuanku Syed Putra. Today, the national landmark can accommodate up to 15,000 worshippers; each year the mosque welcomes over 240,000 domestic and international visitors.
Datuk Baharuddin's original drawings, artist's sketches and photographs, together with archived photographs of various visiting dignitaries, kings and world leaders including US President Barack Obama, are now showcased in the 50 Years National Mosque Exhibition held at the Islamic Arts Museum.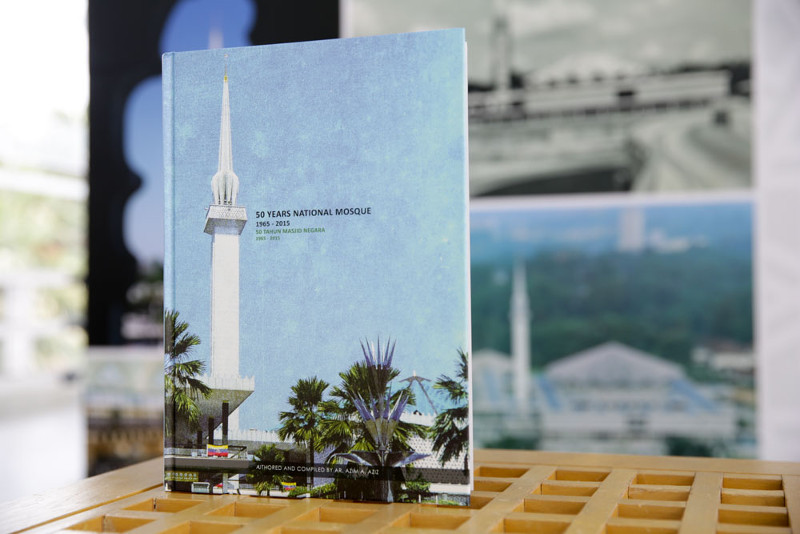 The man spearheading the exhibition is Azim A. Aziz, Chief Executive Officer of ATSA Architects Sdn Bhd and one of Datuk Baharuddin's past associates. Both men share a warm mentor-and-apprentice relationship. In conjunction with the exhibition, Azim has also published a monograph to commemorate the mosque's 50th anniversary.
No one is more excited to view the exhibition than Datuk Baharuddin himself. He says, "It has been years since I've seen many of these photographs and sketches. They bring back many memories. Did you know, back then, all the sketches had to be done by hand; these were the days before computers!"
Masjid Negara: 50 Years National Mosque Exhibition
Islamic Arts Museum Malaysia, Jalan Lembah Perdana, Kuala Lumpur
September 5 to October 13, 2015