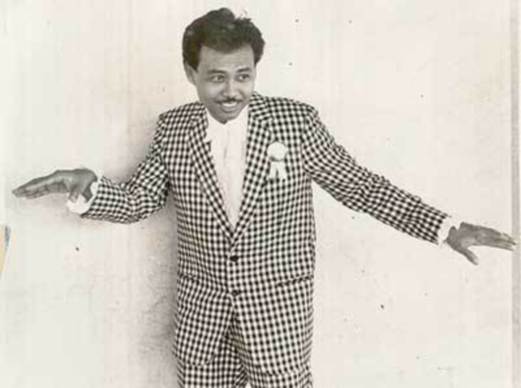 Ahmad Fauzee Abdul Samad's foray into singing started in the classroom after a minor transgression, writes Dennis Chua.
BEST known as a fan of retro music, especially the music of Tan Sri P. Ramlee, Ahmad Fauzee Abdul Samad is easily identified by his back-combed hairstyle, dark glasses and checkered shirts.
A well-known television programme host and occasional actor, he started singing at 9. "Actually, my foray into singing was unintentional. I was forced to perform in front of my classroom because I had flouted school rules by singing during lessons. Sportingly, I did as I was told and my teachers forgave me for that minor transgression."
Ahmad Fauzee began to perform in school concerts and talentimes, and his talent was also encouraged by his parents and two of his uncles who were musicians.
The younger of the two uncles was the late jazz king Zain Azman. "It was under his guidance that I brushed up my singing skills," says Ahmad Fauzee.
His early favourite songs were those by Elvis Presley and Sir Cliff Richard. These included It's Now Or Never, Love Me Tender, The Young Ones and Bachelor Boy. "I only became a fan of Tan Sri P. Ramlee's music after his untimely death in 1973. However, I did get to meet him when he was alive, as he was a customer at my grandfather's satay stall in Kampung Baru, Kuala Lumpur, in 1971," he says.
Ramlee left a lasting impression on young Ahmad Fauzee. "He was cheerful and was very friendly. Ramlee truly lived up to his image as the people's entertainer; he would readily sing a tune or two to fans who approached him."
Ahmad Fauzee did his early education at the Malay College Kuala Kangsar where he became active in theatre and singing. He later joined Malaysia Airlines as an air steward and served the airline for 15 years. His last post was as senior chief steward on a B747.
"I won the MCKK talentime in 1969, in both the solo and group categories. As a music lover, I also joined its school choir and its cinema club," says Ahmad Fauzee.
As a Ramlee fan, he joined the Pop Yeh Yeh group Panca Sitara 3 which was formed by Ramlee's son, the late Nasir P. Ramlee, in the early 1980s.
"Being part of this group helped me get to know veteran singer Normadiah better. I've always admired her as a versatile singer and actress, and we first met in 1979."
Normadiah and Ahmad Fauzee were neighbours in Subang Jaya, Selangor and often visited each other.
"I learnt a lot about singing and entertaining from her. In fact, she was one of my greatest mentors in music."
As a solo artiste, Ahmad Fauzee has 12 albums to his credit. Two of them are duet albums in which he collaborated with Normadiah's daughter, 1980s singer Azlina Aziz.
"My duets with Azlina, who is still one of my best friends, are covers of duets recorded by her parents Aziz Jaafar and Normadiah. Both of them were in Panca Sitara, too."
Ahmad Fauzee's best-known movie to date is Kolej 56 which he also directed. This 1989 film was loosely based on the life of students at MCKK and had a star-studded cast which also included Datuk Shah Rezza and director Erma Fatima.
"I was nominated for Best Actor at the 8th Malaysian Film Festival," says Ahmad Fauzee.
In the early 1990s, he re-made Ramlee's romantic movie Panggilan Pulau where he starred opposite model and actress Sharmaine Farouk of XX-Ray fame.
"Sadly, this movie was pulled out from the cinemas after two days of screening. Certain individuals criticised it as a corrupting influence and my family also received threats on the telephone."
Other notable films he starred in were Red Haired Tumbler Di Malaya (1994) and Jimi Asmara (1995). On TV, he pioneered the 1980s entertainment show Mekar Sejambak on TV1. He also starred in Datuk Yusof Haslam's police drama Gerak Khas in 2015 and the romantic drama series Dia Semanis Honey last year.
Ahmad Fauzee also appeared in the recently concluded theatre version of Dia Semanis Honey at Istana Budaya, Kuala Lumpur.
"I've been a game show host. In the 1980s I hosted a season of the hugely popular game show Tekaria. I was preceded by the late actor Mustaffa Noor and Datuk Ahmad Tarmimi Siregar.
"While it was a great experience being a game show host, looking back, I feel that I was a nervous wreck most of the time. I guess I am more at home hosting entertainment programmes such as TV1's retro music show Terkenang-Kenang."
Ahmad Fauzee, who has eight children and five grandchildren, will soon appear in TV2 drama series Khabar Dari Casablanca. "It's a pretty good story, and I believe it'll be a hit with viewers."