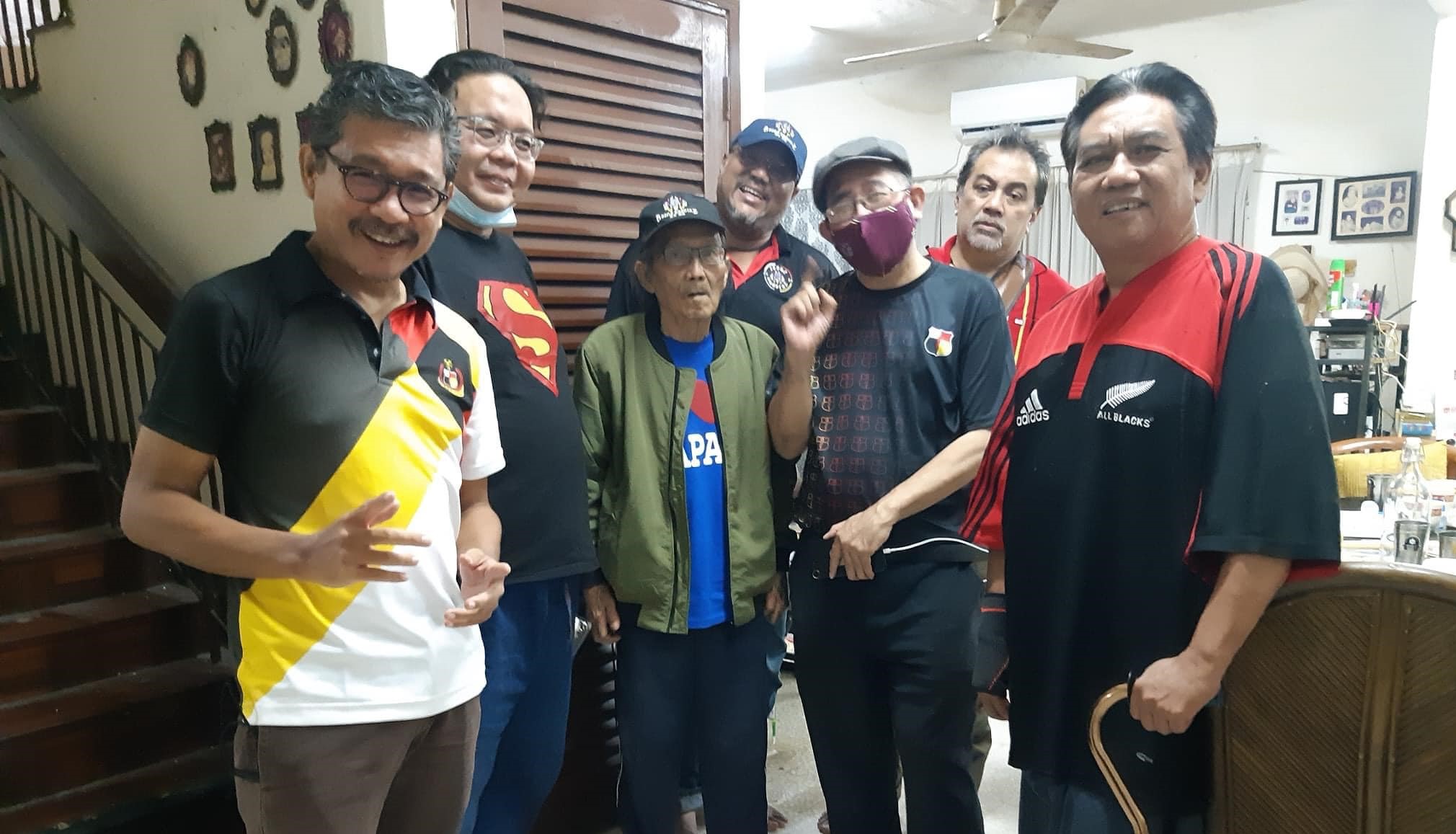 Cendoi (C'81), Jak Li (C'76) & Spice (C'76) had an exciting night rendezvous with one of our former teachers, only one of the few surviving ones from our 70's and 80's days in the Malay College Kuala Kangsar. Earlier, his daughter Elle Razak announced on her Facebook "Having Dad for a week 😁…jom teh tarik…"
Together at Elle's house were Dato' Dr Ramlan Aziz (C'77), Caine (C'87), Shaikh Imran (C'88) and Qeemnoor (C'88) who also came to meet their old band master of the Cadet/Military Band. Cikgu Razak taught in MCKK from 1965 straight from the Malayan Teachers College, Lembah Pantai till his transfer to Sekolah Datin Kadijah, Kuala Kangsar in 1995. He retired from teaching in 1996. Another teacher who spent almost his whole teaching career in MCKK and had taught fathers and sons.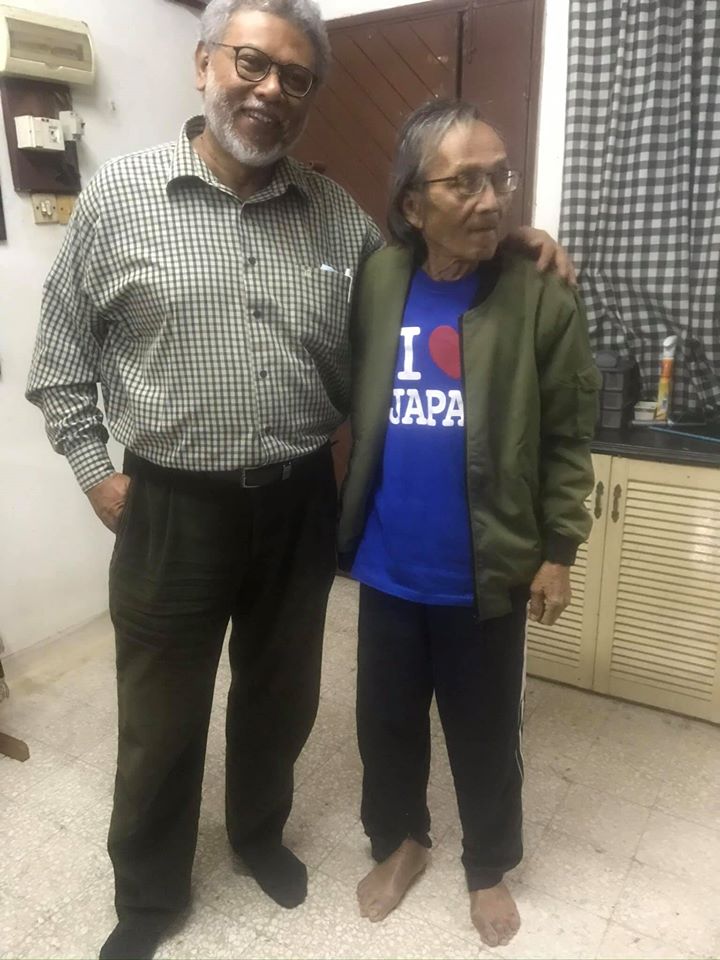 A Master & Friend. Music & English Teacher. Serious but Funny guy. Silent but Lethal. A great teacher who takes your hand, put a recorder in your mouth, ask you to blow in it and crack your head with it, for better or worse.
Now, his voice is at the unusually minimum volume for you to barely hear through his grunts and hand signals before even catching sight of the tousled and no longer wavy 'remos' pompadour hair of Cikgu Abdul Razak Shafie a.k.a Razak Jepun a.k.a Jak Pang a.k.a Ajak Pai at his daughter's home in SS14, Subang Jaya. He is 79 years old this year.
He looked rangy, both arms animated and in a green jacket over his 'I❤️Japan' T-shirt, a Boonz Brothers (C'88) cap in place but relaying his conversation through hand signals and his trusty white board. He's in town for a routine check-up appointment at Institut Jantung Negara (IJN).
Cikgu took a while to warm up; he had a heart problem earlier, a survivor of a bypass operation in 2017 and sometime ago he had a stroke, that affected his communication ability, both orally and writing, but his mind is still sharp, and could reminisce many memorable moments (we had fun playing 'Charades' guessing game to decrypt his expression of the stories…)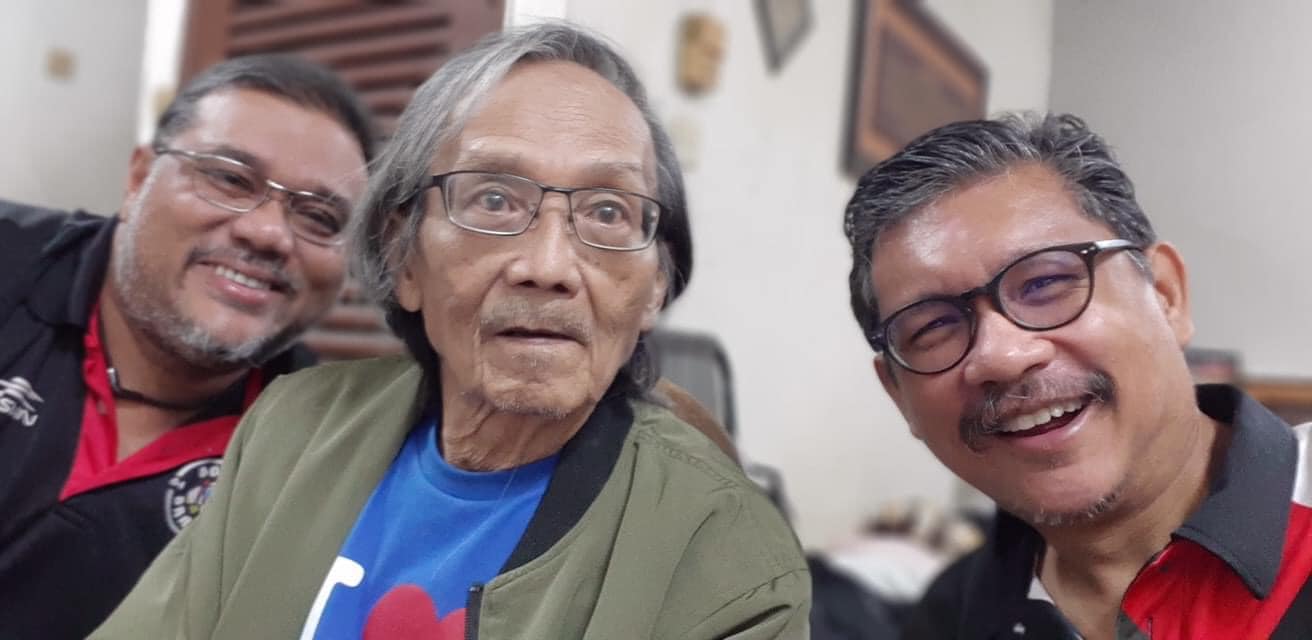 His passion is still music and cars (fast sport cars, such the Triumph Spitfire MK, Ford Capri etc, mind you…) each time the subjects were discussed, his eyes glowed…he wrote on a note white board, but his hand was shaky and obviously his artistic ability was not like the Art teachers like Tuan Syed Bakar or Mustapha Kamal Rabah. He made us write our names on the whiteboard. It must be hard for him as the Cikgu Razak Jepun that I know was quite chatty and avant-gardist.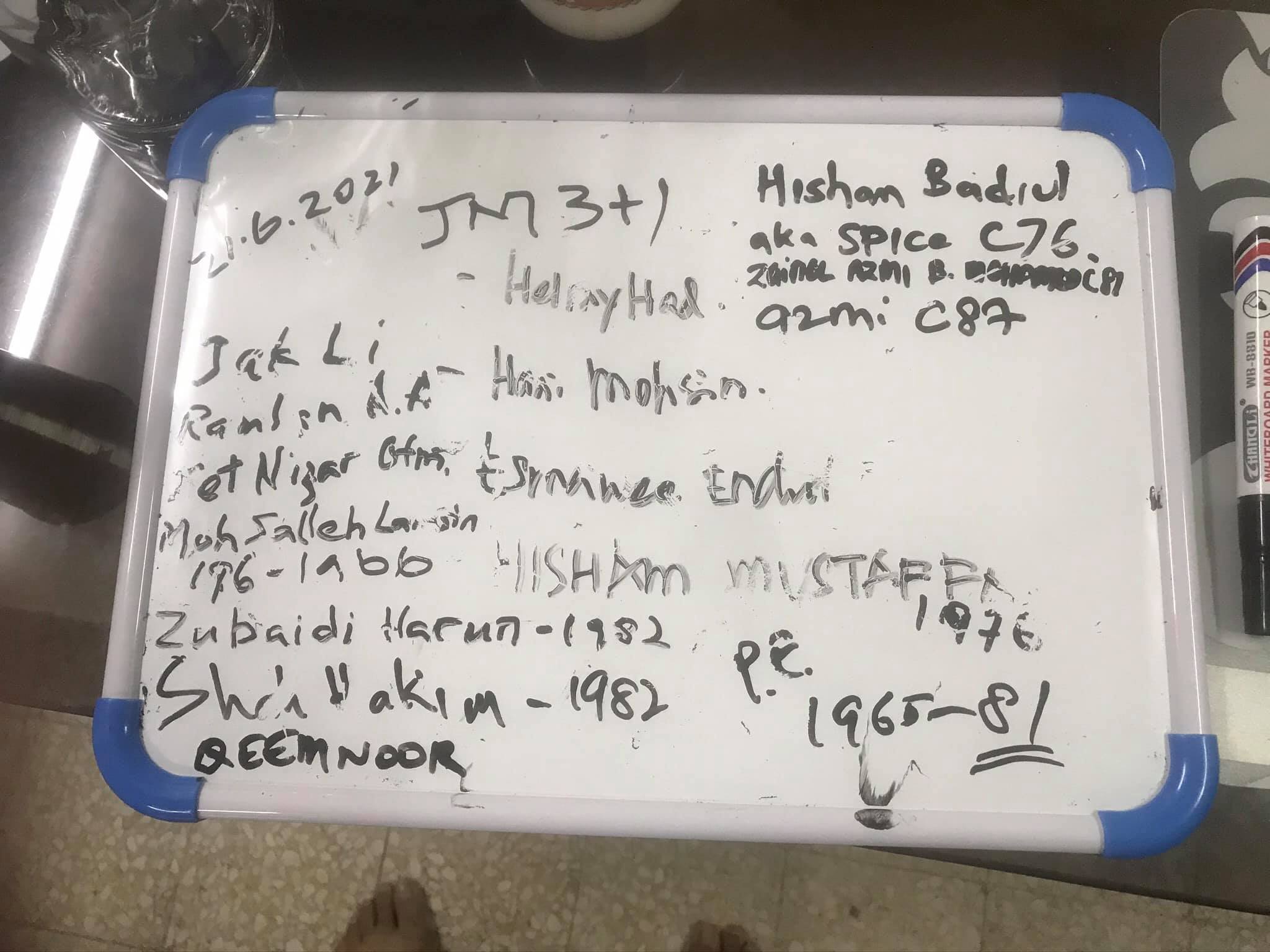 Not many know that Cikgu Razak Jepun was the one who wrote the original musical score for the school's anthem 'Oh Kolej Melayu' in 1971 after it was penned down by MCOBs Sallehuddin Hashim C'68/69 & Abed Onn C'69 a few years earlier. Credit should be given to this beloved long-serving music teacher, and he always told the students that it was written by some Budak Kolet but he did not know who, and this kind of perpetuate the whole thing into a music score like no other…only to realise it is a melody you'd once learned by heart, one can play without even trying.
It is a tune that is highly recognised and memorised by many generations of MCOBs. The present musical score was re-done professionally in 1995.
I haven't seen Cikgu Razak in 16 months, his smile now only reflected by crinkles around his bespectacled eyes. The last time I met him was during the Old Boys Weekend (OBW) 2019 when he came as a guest of honour to see the OBW Concert at the AudiTAR.
That night Saturday 13th, 2019, his daughter Elle had texted earlier that Cikgu wanted very much to meet his former students at the OBW and as Chairman of OBW 2019, I made a phone call to him at his house at Bukit Chandan and invited him over. He was given a standing ovation when the MC of the night Azmi Shahrin aka Caine (C'87) introduced him as "…our old music teacher who wrote the musical score of Oh Kolej Melayu!…" How Cikgu stood proudly that night. He thoroughly enjoyed himself that night when the performing bands played a repertoire of old songs and he was seen swaying to the groove like a jury out of a reality entertainment show. He was also seen scribbling on his notepad requesting songs to be played by the bands.
Tonight, we chatted for a quite a bit, reminiscing about our school and life experiences, seeking solace of our master student relationship since the good old schooldays.
During our time at MCKK, Cikgu Razak Jepun lived in the teachers' quarters adjoining the Prep School field at the back of the Dr. Underwood Clinic. He lived with his wife with a little baby named Ellina nee Elle who later sang the famed duet song Kain Pelikat with the then young Annuar Zain.
Cikgu Razak Jepun drove a Ford Capri, a sports car which says a thing about his life on a fast lane. His house would be the place where the Malay College dancers would practice their 'joget, zapin, belly , jazzy or hula' steps whenever there was an upcoming performance in concerts organised by the school . His lovely wife Zalehah Mohd Soom, would be the dancing coach.
He was also good in tennis and could always been seen at the tennis courts at Big School. He used to play a lobbed ball from baseline to fool his opponents who were waiting in front of the tennis net so much so the lobbed ball or rathe the technique was dubbed 'bola Ajak Pai'.
During English lessons, if you answered wrongly say for example the plural for 'spouse' was 'spice', you'll get a gut-wrenching belly twist by his trigger-happy fingers and that piercing menacing look. Quite a cultural shock for a Kampung boy first former like me!
Cikgu Razak Jepun also taught me to read musical notes; not just Do–Re–Mi–Fa–Sol–La–Si, but it also included alien things like octave, staccato, breave, crochet etc. Suddenly, you could read and make sense of those squiggly notes on musical sheets and a new language opened up on my tongue. I became a cunning linguist.
Those days, we would learn music by blowing recorders (an internal duct flute wind instrument) on the stage of the Hargreaves Hall. However, the music lesson or class was something that I dreaded or feared most.
Cikgu Razak would ask you to play the recorder from the notes he wrote on the board and if anyone was out of key, he would smack you with this big long blackboard ruler. Many would rather mimic playing the recorder in groups without actually blowing into recorder lest you would be spotted or heard.
Unfortunately for me, being tone deaf does hurt you literally putting knocks on the head and seeing stars in orbit. Though not musically inclined, I did however acquire some knowledge of music even-though I never learnt to play any musical instruments, not even a cymbal.
The idiomatic phrase the School of Hard Knocks — brought a new meaning about the education (sometimes painful) one gets from learning about life in MCKK.
I still can't figure out why the need to plonk my head with a big ruler for missing a note during my recorder lessons at Hargreaves Hall those days. Gives a new meaning to the phrase "speak softly and carry a big stick; you will go far." Tonight, Cikgu Razak Jepun even brought out a recorder to play a few notes till he panted for breath. Those few music notes of his impromptu recorder recital had me cringing in fear.
Sometimes a simple musical note mistaken blown in innocence can really hurt when the person on the receiving end finds it true 😳
One day we'll look back and wonder what the fuss is over a musical note as common as Do-Re-Mi among friends, teachers and students.
Unless his English and Music is too good for me.
But today the reality is there are people who are either thick-headed or otherwise feel entitled. People like me didn't take offence anymore and never give it thought though the pain still resonates.
But for tonight, I met up with Cikgu Razak Jepun with no malice, hostility nor revenge for the knocks on my head and the belly twisting. To us, his punishments made us endeared to him as a living legend of MCKK.
We have learnt to understand the difference between discipline and punishment. Punishment is what you do to someone; discipline is what you do for someone.
Our meet up with Cikgu Jakpai was about meeting up with a school teaching legend who shall always be remembered by his musical boys and also his 'punished' non-musical boys alike. Today, that legend is inscribed on the stones that were used to build the walls of the school.
Though he was not able to communicate like before but I could tell in his still piercing eyes and enthusiasm that glowing passion for sport cars, music and of course about his life in MCKK. He can't recollect hitting me over the head for the blowing wrong notes on the recorder, but I suppose there were many heads he smacked with his trusty ruler and recorder over the many years when he was teaching at MCKK.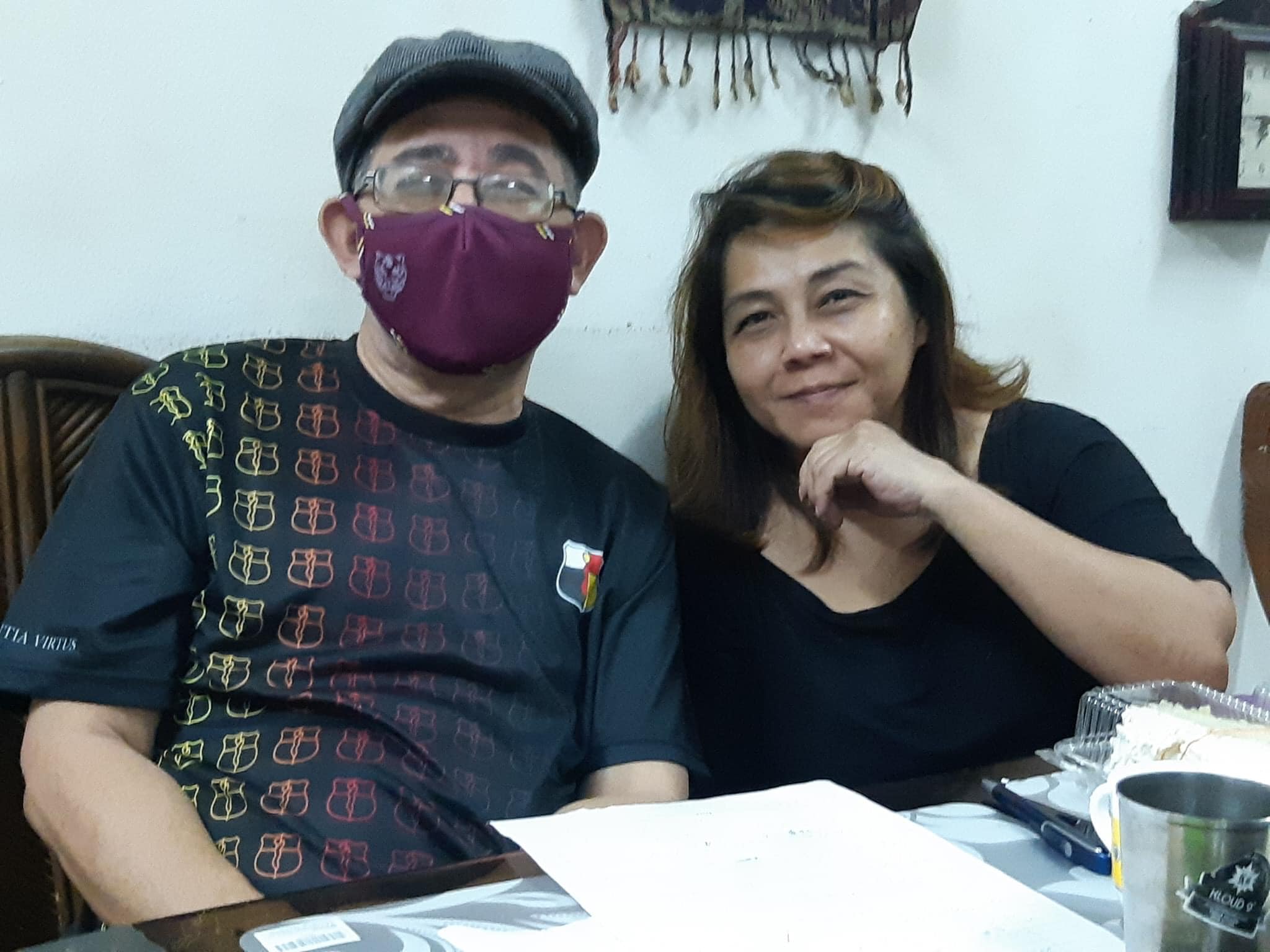 Thanks Yong Elle Razak and hubby Mus for the lovely, delectable and tasty durian D14 cake (personally baked by Elle, of course) with brewed coffee and of course, the kind hospitality.
Hang in there Cikgu Jakpai. Take care and see you soon Cikgu Jakpai, the Music teacher to end all music teachers. Insyallah, we meet again whenever you're in town or whenever we are back in Kuala Kangsar.