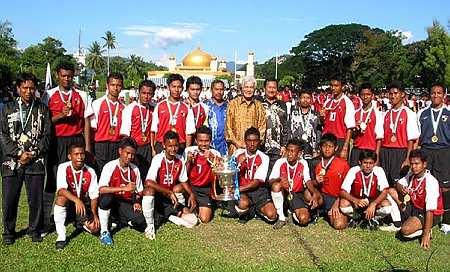 Their best performance was merely forcing VI to a 1-1 draw and 2-2 draw in 2002 and 2004 respectively in the last five years. Indeed, in the past decade, MCKK had been able to edge VI only twice successively, in 2000 and 2001.
But this year, they turned the tables on VI in their recent match held at MCKK grounds with a surprise 3-1 victory. The presence of the Sultan of Perak Sultan Azlan Shah could have inspired the homesters.
MCKK were rooted in their own half for most of the first 25 minutes as VI started aggressively.
Then, against the run of play, MCKK left winger Mohd Edzadzal Mohd Noor latched on to a loose ball and fired a shot from an acute angle to give the homesters a 1-0 lead in the 31st minute.
The goal appeared to be the right tonic for the MCKK boys. They went into offensive gear immediately, forcing VI players to backpedal into their own half.
Five minutes later, VI fell two goals behind. In their haste to clear a cross, a defender fouled an opponent inside the box and a penalty was awarded. Striker Rafiuddin Ramly coolly stepped up to slot the ball home.
Two minutes before half-time, Mohd Edzadzal showed his goal-scoring ability again when he increased the scoreline to 3-0.
VI replied with a solitary goal through R. Sharin Raj in the 60th minute.
The tournament's history stretched way back until 1949 when it was called the Laksamana Cup Tournament which only involved the MCKK and VI but the tournament stopped in 1981. However it was revived in 1997 and renamed the Sultan Azlan Shah Cup tournament.