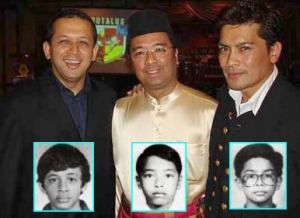 From social science classes to social soirees, MCKK and TKC alumni flirt and flit about the society scene.
AT the launch of Tun Mahathir's book in Putrajaya recently, Datuk Seri Megat Najmuddin Khas – respected corporate figure, stalwart of the Malaysian Institute of Corporate Governance and in this instance, a humble guest at the breakfast event – had a good laugh when a reporter asked about the ubiquitous maroon necktie sported by him and several other guests, including Tan Sri Abdullah Ahmad, the co-author of the aforementioned book.
At another event across the globe, I was approached by a Hermes-clad accountant in a quiet tea room in London, inquiring if I had once studied at the Malay College Kuala Kangsar (MCKK).
"You were my junior," he said, "and we used to fight over the piano behind Hargreaves Hall, remember?"
Ironically, I was not even wearing anything maroon at that point in time.
MCKK alumni – whether they are reminiscing over a hole-in-one at KLGCC or hopelessly lost in Outer Mongolia – just seem to have that je ne sais quoi that makes them stand out from the rest.
"I think it is that maturity which we picked up during our formative years," said top MAA executive Helmy Had Sabtu over cigars one afternoon.
"Residential schools, elite or otherwise, seem to accelerate mental development as we are surrounded by our peers, 24/7," the 43-year-old reasoned.
"The need to conform, contradict and co-exist is constantly there while the bonds developed between us remain intact for a lifetime," added lawyer Harmy Yusof, Helmy's batch mate and tennis partner at the Royal Lake Club in Kuala Lumpur.
I wish I could agree with him as it took me a good 25 years to finally get round to attending my batch's reunion.
From the business world to society circles, the alums have excelled in their chosen fields.
Historically, a slew of royals and leaders in the Malaysian Government service have headed the glittering list of MCKK's successes.
Closer to home, my uncles, Raja Azam, Raja Kassim and Raja Biazid Raja Kamaralzaman, represented a league of gentlemen who made their marks during the Colonial years and beyond. My grandfather – the once Raja DiHilir Perak, Raja Kamaralzaman Raja Ngah Mansor – was the first head boy of MCKK, making yours truly the third generation of Perak royals to have graduated from the bastion of the Malay elite.
These days, Petronas boss Tan Sri Datuk Hassan Merican, businessman-philanthropist Tan Sri Mohd Saleh Sulong and Tun Mohammed Hanif Omar are among many prominent alumni, along with CIMB's Tunku Ahmad Burhanuddin, Scomi CEO Shahzanim Haji Zain, society bon vivant Johari Abas and the late actor Hani Mohsein Hanafi.
Even as I speak, a few fledgling luminaries are honing their ambitious society chops, probably inspired by PR-savvy property developer Datuk F.D. Iskandar and the perpetually smiling Datuk Latt Shariman.
Come every Wednesday, they magically pop out from the woodwork with their maroon-and-gold badges of honour.
"There's a beaming sense of silent camaraderie if we chance upon other 'Old Boys' at lunch time," said Maybank's Rudy Rodzila.
Undoubtedly, the networking among MCKK Old Boys remains unsurpassed. God bless the parents who gritted their teeth to send their teary first-borns to the alma mater. The investment and sacrifices have definitely paid off in these days when one needs to know who's who to excel in life.
Rumour has it that Renong Group, under the helm of business titan (and respected alum) Tan Sri Halim Saad, was a veritable collection of Old Boys, one of whom was this writer.
Once dubbed the "Eton of Asia", MCKK's appeal seems to have survived the test of time since its royal inception back in 1905.
Snob appeal? Not necessarily – I think it's a proud tradition of well-placed humility and self-esteem generated through good family values sprinkled with a healthy lashing of MCKK's sterling student culture.
"Harga diri! Self-respect! We were taught to have confidence in ourselves," Megat Najmuddin recalled over breakfast at his house last week.
"That is why we Collegians can stand tall and look eye to eye with anyone in the world."
But it's not all a bed of roses being a Budak Kolek. Of late, snide remarks about the school churning out closet ? erm, cases ? seem everywhere, accompanied by sneering sniggers and sideway glances.
"We don't see it as a problem and we are simply too secure to even acknowledge it," said Megat Najmuddin, who is also the President of MCKK Old Boys Association.
"Besides, we would rather direct our valuable energy towards more productive challenges, like reducing our golf handicaps," he laughed.
But one challenge no red-blooded alum can resist is the come-hither allure of MCKK's feminine counterpart, Tunku Kurshiah College (TKC).
"We used to envy our mates who participated in the Piala Perdana Menteri because they had access to the brainiest beauties during the debate preliminaries," recalled Nik Ahmad Farid. "Those who had sisters studying there got our vote as well."
The Piala Perdana Menteri – probably the only national debate in Malaysia that gets televised other than heated Parliament proceedings – was an inter-residential school competition held annually to hone the best speakers among the junior set.
"My first visit to RTM's Auditorium Angkasapuri for the finals way back in the 1970s was to cheer on our debaters while the TKC team sat adjacent to us," recalled Helmy Had.
Did our sonority sisters have similar life-defining values? Do they wear secret identity tags – a day-glo scrunchie, perhaps – on stipulated days every week?
I approached respected author and TKC and Convent Bukit Nanas alumnus Dina Zaman for her side of the story.
"After a succession of several schools – my family moved around a lot – I found TKC very disciplined and regimented! There was strict scheduling but I learnt to adapt well by being a keen observer, and kept a detailed journal," she said.
"My batch was quite bookish, unlike the fun-loving juniors."
By "bookish", Dina also meant romance novels craftily sandwiched between trigonometry textbooks: "In TKC, dog-eared issues of Harlequin romances and Barbara Cartland novels were traded like contraband," she laughed.
"And to set the record straight, we do not have any iconic apparel that we have to wear on specific days of the week."
Though not as old as MCKK (the ladies would not admit to their ages, anyway), TKC has churned out an impressive list of national heroines such as Datuk Rafiah Salim, the current Vice Chancellor of Universiti Malaya; Tunku Dara Naquiah; respected banker Raja Teh Maimunah (Kak Onn to the Old Girls); and socialite Datin Tengku Halimah, who is Dina's aunt.
"We celebrated our 60th anniversary last year with the royal presence of three state rulers – of Perak, Selangor and Negri Sembilan – and what a bash it was," said serial blogger Ruby Ahmad.
"My compatriot in TKC then was Datin Paduka Marina Mahathir but the one endearing personality even way back when was our current Women, Family and Community Development Minister, Datuk Seri Shahrizat Abdul Jalil.
"Sherry (as the teachers called her) excelled in elocution classes. Plus, she was a stunning beauty and the headmistress remembered her as the 'one with the mesmerising eyes'.
"We had American Peace Corps and British volunteer service teachers as our staff.
"Things were different back then – the teachers were worldly-wise and committed beyond the classroom to motivate us to excel educationally and become exemplary individuals in our own right without losing sight of our Asian values and morals.
"This came in useful when we studied abroad later. Things have become quite sanitised these days," she reminisced.
While my MCKK mates would have their locker doors plastered with posters of Brooke Shields, Suzanne Sommers and Farrah Fawcett Majors (my teenage crush was Malaysian model Maria Kamaruddin, now a still-stunning Datin as well), one TKC girl that had major impact on our spotty hormonal existence then was former beauty queen Yasmin Yusoff, an elegant presence in the current social scene.
Looking back, though the MCKK and TKC did not enjoy the summer-camp sensibilities of the current National Service, the alma maters' vision and values have definitely stamped an indelible impression on many of its graduates.
Undoubtedly, there are and will be other proud institutions churning out notable personalities that grace the Malaysian annals of societal fame but, somehow, it is hard to ignore that particular maroon tie worn proudly every Wednesday, year in, year out.
Social observer Mansor Tun Abdul Aziz revels in the beauty and irony of KL society in his fortnightly column.