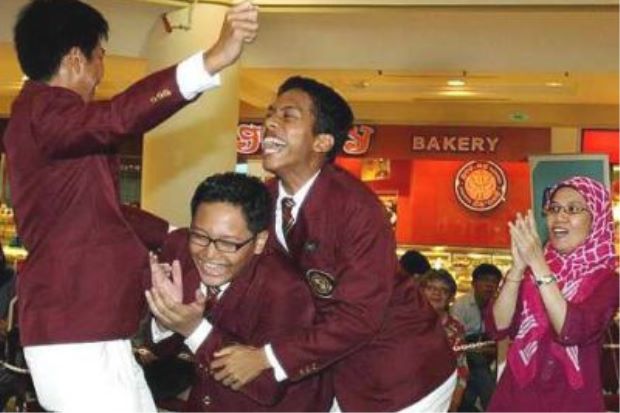 IPOH: Malay College Kuala Kangsar (MCKK) has once again claimed bragging rights to having the mightiest minds in Perak after retaining the top spot in the upper secondary category of the RHB-The Star Mighty Minds state challenge.
Team captain Muhammad Huzaimi Tahir, 17, said his schoolmates' victory last year drove his team to work extra hard to replicate the win in the competition held at a shopping centre here on Saturday.
They edged out 59 other teams to emerge champions and will represent Perak in the national finals to be held in the Klang Valley in October.
Muhammad Huzaimi said together with his Fifth Form teammates Muhammad Khairul Adib Muhammad Yusof and Amir Arashah Ghazali they had to crack their heads to overcome the quiz and hands-on challenges.
He added that they had only two days to prepare for the competition.
"We had other school commitments and only had time for last-minute revision."
Coming in at second place was SMK Sultan Abdul Aziz, Teluk Intan, and the third prize winner was SMK Methodist (ACS) Sitiawan.
In the lower secondary category, SMK Methodist Tanjung Malim emerged champions after beating 58 other schools.
Competition first-timer T. Thamsareka, 15, said her team did not expect to win as they had encountered some technical problems during the hands-on challenge.
"We felt that our imperfect model cost us points. We could only hope that we excelled in the other segments," said Thamsareka, adding that her school was placed fifth last year.
Together with teammates Merci Doris Fernandez and Teoh Wen Kang, both 15, they had set aside three weeks to prepare for the challenge.
She also said they were now looking forward to the national finals in October.
The school edged out last year's winner, SMJK Sam Tet and SM Methodist (ACS) Ipoh, with the two coming in second and third respectively.
The winning teams for each category won RM5,000 while the schools received a desktop computer each.
The second and third prize winners from each category received RM2,000 and RM1,000 respectively, while their schools were awarded a 32-inch LCD television and a facsimile machine.
The competition is jointly organised by Star Publications (M) Bhd and RHB Banking Group. McDonald's Malaysia is the food and beverage sponsor.
The state challenges end this weekend with the final Selangor leg to be held at Tropicana City Mall, Petaling Jaya, from 10am to 4.30pm on Saturday and Sunday. Selangor is the only state to have 120 teams competing in both categories.
For contest tips, subscribe to F3F5, The Star's Science and Maths guide for PMR and SPM students.
Visit thestar.com.my/mightyminds for contest details, or call The Star's Audience Development unit at 03-7967 1777 or 03-7967 1703.