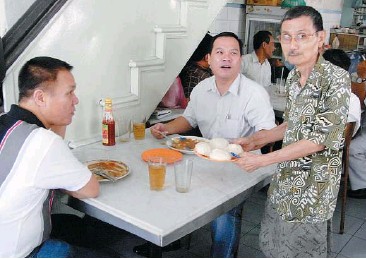 NEW visitors to Yut Loy find it strange that pau from the coffeeshop in Kuala Kangsar are sold out even before they are out of the kitchen.
Little did they realise that some customers had pre-ordered most of the 300 pau made by Chong Cheen Yee and his twin brother Cheen Wah, 37, in a day.
The shop's legacy is so far-reaching that even Istana Iskandariah would place orders by the hundreds and have them transported to the palace during functions.
Located at No 51, Jalan Kangsar, since it was opened by the brothers' grandfather in the 1940s, the shop is well-known for its pau and western cuisine such as chicken chop, fried noodles and fried rice prepared like in the colonial days by Hainanese cooks.
"We can only make between 250 and 300 pau a day because we are the ones who prepare all the dishes sold in our coffeeshop from 9am to 6pm.
"It is normal to our regular customers queuing to wait for the pau to be out of the kitchen at 2.30pm each day," Cheen Yee told MetroPerak.
Their father Chong Khong Meng, 72, continues to be at the counter and serving customers.
Cheen Yee said their pau is halal and the fillings include beef and chicken are sold for RM1.80 each while kaya (coconut jam) and red bean priced at RM1.50 each.
Yut Loy is also a popular meeting place for students from Malay College Kuala Kangsar (MCKK) where they have a cup of coffee and a pau.
Ex-student Mohamad Zain Mohamad, 50, said he had fond memories of Yut Loy as it was the shop where he and his friends often met.
Mohamad Zain said they sometimes sneaked upstairs to have a cigarette to avoid the teachers who were also regulars at the shop.
"The food sold at Yut Loy was much better than what we got from the college canteen.
"Whenever there is an old boys' reunion at MCKK, you can see politicians, senior government officials and celebrities visiting the shop with their expensive cars or Harley-Davidson parked nearby.
"The pau is smooth and soft and the contents fresh. Even Sultan Pahang Sultan Ahmad Shah, when he was a student in the 1940s, was known to get someone to buy the pau for him whenever he visited or passed through Kuala Kangsar," said Mohamad Zain.
Cheen Yee said he was satisfied with the business and had no intention of expanding.
"We like to maintain the atmosphere as a traditional kopitiam with marble top tables, wooden chairs and serving coffee in porcelain cups," he said.
The only difference from the days when Khong Meng's operated the shop was that Yut Loy now closes on a Sunday every two weeks.
"During my father's time, the shop only closed for one day during Chinese New Year," Cheen Yee said.