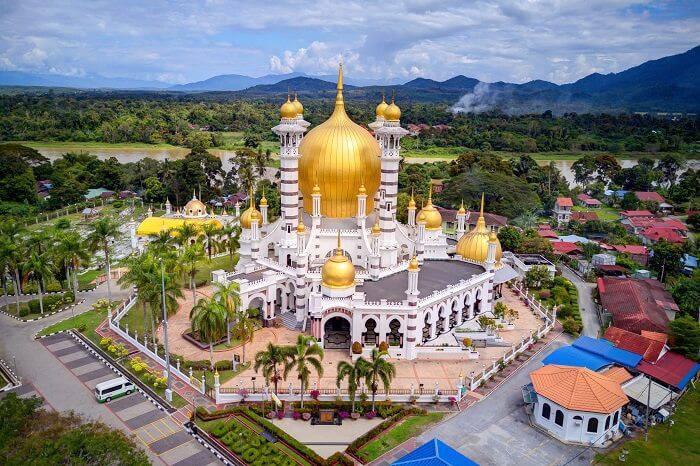 Kuala Kangsar's (or KK as it is known) blatant beauty is attributed to three things: the architecture, the river and the history behind it. An unpretentious town, whose quiet charm nonetheless managed to attract the production crew of "Anna And The King".
I could not think of any reasons not to love Kuala Kangsar. But then my utmost fondness of the small little town could have easily made me biased. Over the years, my respect for this small little town, for all its untouched beauty and strong history, has never withered. My 'kampung' as I commonly refer it as, has so much heritage surrounding its small little area, that sometimes it makes me feel as though living in KL seems like a bad decision.
The air that permeates the small little town is certainly fresher than many of the prominent parks in Kuala Lumpur. And the town is very laid back. There are no traffic jams, no parking problems. While there are annoying drivers roaming around (name me a place where there aren't) in the middle of its small town centre, you tend to forgive them. After all, most of these local drivers are so used to driving at their own pace, taking their own sweet time because unlike big city folk like me, these people know what relaxing is all about.
Adding to its beauty is the Perak River. It flows steadily alongside a prime residential area called called Bukit Chandan. It is here that the unblemished beauty of the town becomes clear. The panoramic view of the river can be seen from the balcony of the Bukit Chandan Rest House, where many people would not miss the chance to sit and watch the serenity of the evening sun while sipping a glass of teh tarik (I am not sure if the rest house serves beer now, it used to though).
A few years back a wooden bridge was built on this part of the river for the French-based movie Indochine. And last year, the same river was featured in 21st century Fox flick- "Anna and the King".
Besides the river, Bukit Chandan is blessed with astounding pre-war architecture. On its hill lie majestically some of the most prominent pre-war buildings in the country – the Ubuddiah Mosque and the Istana Iskandariah. Adorned with magnificent golden dome and minarets, the former was built in 1913 (opened in 1917). The latter was built in 1932 and has become the official residence of the Sultan of Perak to this date.
Another pre-war palace in Bukit Chandan is the Istana Hulu, which is a perfect blend of colonial influence and Malay architecture. This old palace was built in 1903 during the reign of Sultan Idris Mursyidul Shah Azam, the 28th Sultan of Perak and since 1954, it has been taken over by the Education Ministry and was subsequently turned into the Istana Kota National School and in 1970, the Raja Perempuan Muzwin School. Pretty much abandoned these days, it briefly became the centre of attraction last year when it was selected for a scene for "Anna and the King".
Besides Bukit Chandan, pre-war buildings have adorned other parts of the town. Some of the finest Malay traditional houses in the country can be seen here and there. Structurally big, these wooden houses have roofs that are decorated with impressive skirtings.
The colonial influence can be seen in The Malay College Kuala Kangsar (MCKK), built in 1905, which bred some of the most prominent political leaders in the country.
The Famous Kueh Pau
KK has a small town centre. Like most small towns in Perak, the town centre is adorned with pre-war Chinese shop houses and kopitiams. One of them, "Kedai Ah Loke" has a long history of its popular 'Kueh Pau'. Ah Loke's Pau menu includes the ever-scrumptious 'Pau Daging', 'Pau Kaya' and 'Pau Ayam'. His buns are so popular with the locals that they're sold out by mid-evening.
Operating since before the war, the shop had always been popular with MCKK students then. So popular even some its former students like the HRH Sultan of Pahang, still crave for the Pau every now and then. The ruler is known to have brought the Pau whenever he travels overseas, stacking hundreds of them in neatly wrapped boxes. Besides its Pau, Ah Loke also has an equally delicious dish called "Micitot" which stands for mince meat on toast. Its hainanese fried meehon is pretty good too.
A few doors away from Ah Loke, is the oldest laundry in town.
While Ah Loke's delicious Pau menu was popular MCKK students, the Idris Club, was a well-known watering hole for their teachers and local nobility in the town.
The late English author, Anthony Burgess, a former teacher of MCKK himself, used to spend his evening after teaching, drinking beer and playing the piano at the club. The author of books such as the "Tiger of Malaya", once indicated that at one point in his life he had decided to change his name, convert to Islam and lived peacefully here. He never did, only to return to England after his brief stint in KK.
Like Burgess, I have never actually stayed here long. My stay was short-lived when my family decided to move to Ipoh when I was six. And since then I only visited the town every now and then, mostly on school holidays and Hari Raya. As a kid, I used to come here with my late mother almost every school holiday, staying at her favourite sister's house, and after she died in 1976, I still visited the town but have never stayed there overnight.
The teenagers of KK
It is in this little town that my parents, all my aunts, uncles (a total of 17 from both sides) and my larger-than-life close relatives, grew up as teenagers in 50s.
Kuala Kangsar in the 50s was like the serial Peyton Place – the rich seemed to rule the town and everyone was connected with everybody, somehow or rather. It was here that sparkling sporty MGs roamed around the town, the teenagers trying out the latest 'yankee' pants, ardent fans of Hindustani movie adopting hindustani names (my mother used to have one herself), fell in love with P.Ramlee and swarmed to watch James Dean, Kasma Booty and Audrey Hepburn in the fan-only 'Rex' cinema.
It was also here that they had their first date, got married and had kids.
Today KK is a lot more quiet. Most of the teenagers are no longer there having either moved out to bigger towns, where they have air-conditioned cinemas or have long died. A handful of them like an aunt of mine are still there.
Proof of a person's bond with their home town must surely be the act of returning when they are ready to laid to rest. The Royal Mausoleum, situated next to the Ubuddiah Mosque, is where my late mother, all eight of her siblings, my grandfathers and grandmothers and other close relatives are buried. (Perhaps I will be buried here one day, unless I die in airplane crash like JFK Jr or I'm eaten alive by a python in the Titiwangsa jungle. And this gives far more reasons to be sentimental).
I once said to a friend of mine that these days, I only go back to Kuala Kangsar for three reasons: Hari Raya, funerals and Ah Loke's Pau. Since Hari Raya only comes once a year, I have realised that I have been back for more funerals than for any other reasons.
Perhaps that is the only thing that I dislike about Kuala Kangsar. The fact that it is place to bid farewell to the people I had strongly associated my life with.
As for Ah Loke's Kueh Pau, I still go there to have my pau every now and then or simply snatch a few at my father's house in Ipoh before they were packed for the Pahang ruler.