CONTRIBUTION: Former members of the Malay College Kuala Kangsar board of governors receive medals from the King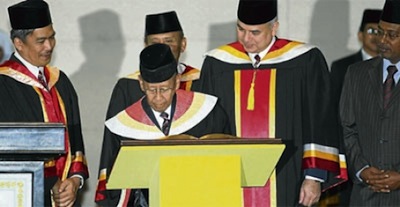 (NST) – KUALA KANGSAR: THREE former members of the Malay College Kuala Kangsar (MCKK) board of governors, including one who died recently, were honoured during the college's prize-giving day yesterday.
The three were Tunku Datuk Seri Adnan Tunku Besar Burhanuddin, 85, Orang Kaya-Kaya Seri Adika Raja Shahbandar Muda Datuk Mohd Othman Zainal Azim and Tunku A'amash Tunku Adnan, both 57.
Tunku Adnan and Othman received their medals from Yang di-Pertuan Agong Tuanku Abdul Halim Mu'adzam Shah.
Tunku A'amash, who died on May 27, was represented by his son, Tunku Shafiq Nasrullah.
Tunku Adnan served as a member for 43 years until last year, while Othman served for six years, also until last year.
Tunku A'amash was appointed a member last year. He was the son of Tunku Adnan.
Tunku Adnan's most significant contribution was in 2004, when as the Malay College Old Boys' Association president, he proposed to the pre-council of the Malay Rulers' Conference that the college and the board be placed under the purview of the rulers.
Subsequently, the conference agreed to the suggestion and Raja Muda Perak Raja Dr Nazrin Shah was appointed as board chairman.
Tuanku Abdul Halim also presented awards to students who excelled in academic and extra co-curriculum activities.
He signed a plaque at the event to mark the opening of the RM8 million International Baccalaureate Complex.
MCKK principal Anand Baharuddin said unlike other academic courses, the International Baccalaureate Diploma (IBD) programme offered a complete curriculum package.
"It not only develops academic potentials, but also a student's personal and social attributes.
"This intensive programme is the best preparation for any student who intends to embark on a tertiary education journey."
Most top universities in the world recognised the IBD programme and this is reflected in their offers of admissions and scholarships.
A distinct feature of the programme is CAS (Community, Action and Service) which encourages students to be involved in community-related activities.
Students are encouraged to think out-of-the-box and have a sense of social responsibility. This in turn offers them the opportunities to practise leadership skills.
MCKK, established in 1905, is the first government school in Malaysia to be authorised by the International Baccalaureate Organisation to conduct the programme.