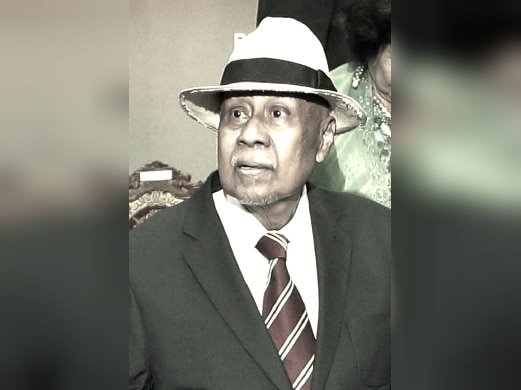 KUALA LUMPUR: The long battle against esophageal cancer finally took a toll on the life of Tan Sri Abdullah Ahmad, better known as Dollah Kok Lanas here today.
The 79-year-old's departure has been described as a big loss to the national political arena as he was noted for his dedication in carrying out his duties, among which included his loyal service to Malaysia's second Prime Minister, Tun Abdul Razak Hussein, for 14 years from 1962 to 1976.
Former deputy prime minister Tun Musa Hitam said Abdullah was an idol to those who likeed to venture into politics.
"Although he was given arduous tasks, he was still capable of resolving them," he said when met at Abdullah's house here today.
Meanwhile, Gua Musang assemblyman Tan Sri Tengku Razaleigh Tengku Mohd Hamzah who knew Abdullah more than 50 years ago said: "We shared so many stories between us that it cannot be recounted.
Born on July 4, 1937 at Kampung Bandar, Machang in Kelantan, Abdullah obtained his early education at Sekolah Melayu Padang Garong at Kota Baharu before entering Malay College Kuala Kangsar (MCKK), and following that, in 1960, he joined the American Political Science Association's Congressional Fellowship programme for 18 months to study the American national politics.
Then, he obtained a Master of Letters from Cambridge University in England.
Abdullah's career path began when he was made special officer to Tun Abdul Razak in 1962 before being appointed political secretary in 1963.
On Jan 14, this year, in conjunction with a special commemorative seminar on the Tun Abdul Razak 'Legacy of Leadership' held in Kuala Lumpur, Abdullah in his speech said: "Tun Abdul Razak had a great influence in the political arena and life of Malaysians during the 1970s."
Abdullah also became Machang UMNO division chief and assemblyman in 1974 when he won his seat in the fourth general election.
However in 1976, Abdullah was expelled from UMNO following his arrest under the Internal Security Act.
This did not dampen his spirit as six years later, he rejoined UMNO and went on to become the Kok Lanas UMNO division chief (previously known as Machang) and assemblyman in his win during the seventh general election in 1986.
He remained Kok Lanas assemblyman for only one session as he was defeated in the eight general election in 1990.
Abdullah's career as a reporter started at the New Straits Times in 1957.
In 1995, he was appointed member of the board of directors for Utusan Melayu (M) Berhad, apart from holding the post as director at Utusan Melayu, Singapore.
In 2000, Abdullah was made New Straits Times Press (NSTP) group executive director before being appointed NSTP group editor-in-chief beginning from 2001 until 2003, when he had to relinquish his post.
Meanwhile in the government sector, Abdullah held the position as deputy minister in the Prime Minister's Department in 1974; and science, technology and environment minister, two years later.
Abdullah had also served as Special Envoy of Malaysia to the United Nations from 1995 to 2000, replacing Tun Musa Hitam.
Besides that, Abdullah had also written a book entitled, 'Tunku Abdul Rahman and Malaysia's Foreign Policy: 1963 – 1970' as well as 'Issues in Malaysian Politics' that was published by the Institute of Foreign Affairs, Singapore.
He had also made his mark in the academia as a Fellow of the Harvard University Centre for International Affairs; Congressional Fellow of the American Political Science Association as well as Trustee of the Cambridge Foundation (Malaysia) for the Malaysian Commonwealth Studies Centre in Cambridge.
Abdullah, who suffered from cancer since last year, is survived by widow, Puan Sri Fauzah Mohamed Derus and three children, namely sons Adhha Amir, 47, and Fuad, 42, and daughter, Hamdia Munirah, 45. – BERNAMA