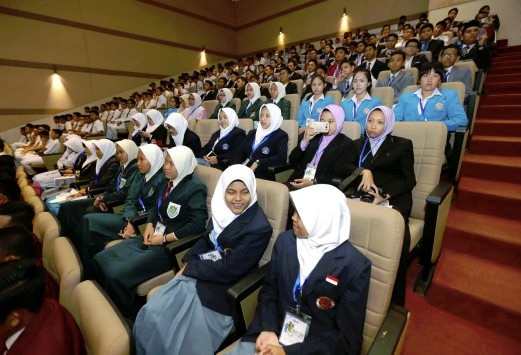 KUALA KANGSAR: Participants in the Malay College Youth Development Summit (MCYDS) 2016 have proposed that more programmes be held to help instill the spirit og patriotism among the younger generation.
The students, including those from neigbouring countries, said the government should take immediate action to tackle the problem as many youths had taken patriotism for granted.
Malay College Kuala Kangsar (MCKK) participant, Muhammad Imran Ramzi, 16, said many students do not even understand the importance of being patriotic.
"They have forgotten that being patriotic is also a way of showing our identity and where we come from," he said.
He said the government, through its various agencies and schools should play their roles in cultivating patriotic spirit among students.
"For me, being patriotic is to love our country and our willingness to sacrifice everything for her.
"But it should not mean that we have to be aggressive or attack other countries," said the Form Four student.
Syed Muhammad Daniel Haziq Haqimeen Syed Mohd Mazreza, 14, of Sekolah Menengah Sains Tun Azlan Shah in Taiping, said the main reason for the problem was that youths were too preoccupied with technology.
"Technology has taken over control of all aspects, to the extent that we have no time to think about our country and those who have sacrificed for our independence.
"We focus more on gadgets rather than learning about history and sharing this information with others," he said, adding that patriotism could start with small things such as wearing traditional clothes like Baju Melayu on Friday.
Irfan Moch Noor of Man Cipasung school in Indonesia, said it is evident that many young people do not appreciate their own country.
"They do not support what the government does for them and prefer imported products.
"Where is our love towards our country when we do not even buy local products?," he said.
Apart from instilling patriotism, he said the government should also help rebrand and promote local products, especially food.
Chanawee Chanyapruek, 16, of Chiangrai Provincial Administrative Organisation School in Thailand, said efforts to educate students on patriotism, unity and liberty should start in schools.
He said that in Thailand, students are compelled to learn about the three issues.
"We have also adopted the 'Philosophy of Sufficiency Economy' under the royal initiative.
"In our school, we handle our own farm, which is part of the initiative to help unite the students," she said.
MCYDS 2016 coordinator Neqmat Siddiq Thal'hah, 16, said the four-day summit from was held to allow participants from different countries to exchange ideas on current issues.
He said 20 local and foreign schools had sent their students to join the ninth annual summit this year.