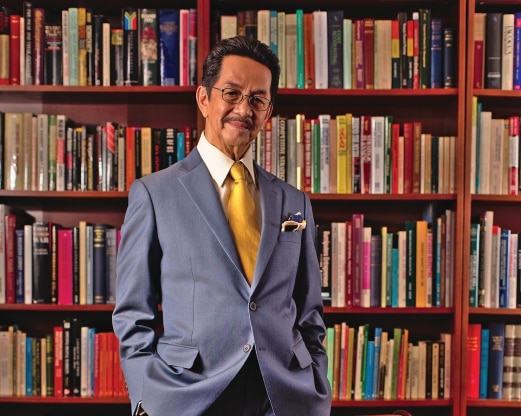 Datuk Suleiman Manan marks his love for life and literature by penning his first novel, writes Kerry-Ann Augustin.
FRANK McCourt didn't start writing until the age of 66. A retired teacher, McCourt's deeply moving account of his impoverished Irish childhood in Angela's Ashes won him the Pulitzer Prize a year later.
When Raymond Chandler lost his job in in an oil company during the Great Depression of the 1930s, he turned to writing. At 44, he wrote The Big Sleep, considered one of the best books of the century which was later brought to life on the silver screen by Tinseltown legends Humphrey Bogart and Lauren Bacall.
Bram Stoker dabbled in all forms of writing, but it was his classic Dracula that put him on the literary map. He was 50. In the next 14 years till his death, Stoker went on to write seven more books.
If anyone knows age is no barrier to achieving literary success, it's Datuk Suleiman Manan. A man known more for his legacy in the corporate sector, he startled many with the recent release of his first work of fiction The River Is Indigo.
The 377-page novel is not just an exploration of fate and destiny, it's also a reflection of the 78-year-old's love for literature and the long, colourful life he has led.
PAGES OF THE PAST
It's hard to imagine Suleiman is anywhere close to becoming an octogenarian. When I meet him and his wife Ramona in their Boga Valley Corporation office in Ampang, he is decked in a copper suit, cream-coloured shirt and a Royal yellow tie.
His hair, ebony and full is slicked back. If that doesn't conjure the definition of dapper, the silk handkerchief he styles as a pocket square confirms it.
His office looks more like a home library than an office of someone who is founder, chairman and CEO of an iconic wellness sanctuary.
Books, easily in the hundreds are neatly arranged in wooden shelves which frame the office. "I have more at home," he says with a smile as wide as his work space.
"My friends were very pleasantly surprised when they read The River Is Indigo," Suleiman confides with a snicker.
"They all asked, "Hey, how… how did you write this book?!" he says, his voice going up an octave mimicking the utter bewilderment of his friends.
Spanning four generations across Sumatra, Java and British Malaya of the 1930s, The River Is Indigo tells the story of Hamzah who finds himself questioning if the tormented life he leads is a consequence of the sworn oath he broke or his own free will.
"You must remember I am a corporate person. So if I do come up with a book, people expect a biography, not fiction," Suleiman shares.
His corporate career is testimony of his ability to think out of the box. After serving a number of GLCs for over two decades, both Suleiman and Ramona built what is considered KL's very first concept mall — Lot 10.
In the subsequent years, they built and owned Star Hill Centre as well as the J.W. Marriot Kuala Lumpur. Now, added to his already decorated resume, is the title of chairman of property giants YTL Land & Development Bhd.
OLD MALAYA
"I always make time for reading, no matter how busy I am," Suleiman shares, turning his eyes to his extensive collection of books. Reading, he adds, is a habit he picked up from a very young age.
Growing up in Penang during the war and later moving back to Kampung Baru in KL, he recounts the difficult era in Malaysian history.
"When the Japanese were here, there were virtually no books except for school books." So he got his dose of prose from reading what most parents would frown upon. "I got hooked onto reading comics!" says Suleiman who recalls hiding comics in the middle of his big atlas, pretending to study geography while his father kept his eyes on his children. "Actually reading comics turned me into an avid reader later in life."
Tapping a few dictionaries on his desk, he continues: "I even love reading dictionaries. Other people find it odd, but I'll happily go through it."
The wit of Ramona, his sweetheart of 41 years shows in her swift comeback when she jokes: "He sleeps with the dictionary!"
His father, a surveyor, was, as he describes, very wise about education. When Suleiman was in his pre-teens, his father made sure he moved out of Kampung Baru.
"At that time, the Malays were very poor. The drop-out rate was 99 per cent because the children would need to go out to work to support their families, so education became secondary."
Suleiman admits that his Kampung Baru times were "all play", as he recalls how he would sneak out of the house to swim in mining pools with friends. "My father became very worried when he saw my grades falling and knew this was not the right place for me."
Yet his childhood in both Kampung Baru and Penang had a huge impact on him, traces of which are visible in The River Is Indigo.
"In Kampung Baru, there was no such thing as fences. In that sense, the community was never divided or segregated.
And Penang, as he remembers, was a cauldron of people of different ethnicities — Burmese, Acehnese and even Jews. "So in many ways, I was exposed to multiracialism at a very young age," he says in reference to the many inter-racial relations in his debut novel.
WINDOW TO LIFE
But it was his time at the prestigious Malay College Kuala Kangsar (MCKK) that Suleiman felt made a distinct difference to his life.
"I wouldn't be sitting here in this office if not for MCKK. It was based on the system of the British public schools, they wanted to imitate Eaton — the discipline and the culture of the school," he recalls fondly.
"And the bonds it created lasted a lifetime."
Chipping in, Ramona adds with a chuckle: "His friends were at the book launch the other day. The combined age of everyone on that table alone was 800 years old!"
Suleiman, who considers Thomas Hardy, Le Carre, Carlos Ruiz Zafon and Paul Theroux some of his favourite authors, reveals that his flair for writing was something that came very naturally to him.
"I have the habit of jotting down my travels, experiences and things that affect or inspire me," he says, adding that even during his time as a civil servant, he enjoyed writing meeting reports. He admits that in his most private moments, he pens poems.
"Instead of buying Ramona things, I write her poems. Poems which are not published anywhere," shares Suleiman with a boyish smile while taking loving glances at his wife and mother to their four children.
BE STILL, MY HEART
The book took four years to complete, something Suleiman attributes in part to his constant changing of drafts. He shakes his head as he recalls just how many drafts he wrote, all in short hand.
"Sorry, I'm old school. I don't know how to use these computer things," he says, amused by his own admission.
But, as he points out, the book wouldn't have been completed if not for Ramona, who he calls his best friend, biggest supporter and harshest critic.
"Ramona planted the idea in me that I should write novel, since I had read so many. She was my inspiration to pen fiction."
If you've spent even a brief time talking to Suleiman, it won't surprise you that the very first page of his book is dedicated to Ramona. He peppers his conversations with her name, talking about her most affectionately.
"When I faltered, she prodded me to soldier on," he says, adding that she would pack all his writing gear as he spent even his holidays writing.
His wife is quick to jest: "Yes, and every time he tried to rewrite a chapter, I'd tell him I'd throw it in the bin!" Suleiman laughs, informing me that he has an uncontrollable inclination to drafting and editing his novel to perfection.
"You must curate every word to emote the accurate feelings, right?" he says.
While Suleiman repeats many times that the story is not about his own life, Ramona confides that there is one striking similarity between her husband and the protagonist of The River Is Indigo, Hamzah. "Like Hamzah, Suleiman is a man of tremendous integrity."
The book has been described as enthralling, intriguing from start to finish, poignant and a page turner with beautiful prose. Frank McCourt famously said, "Keep scribbling. Something will happen."
That is exactly what Suleiman Manan did, and something great has happened, at 78.