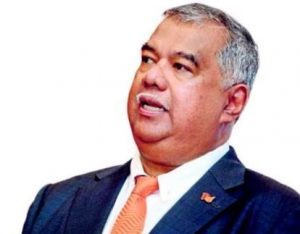 THE MCKK Premier 7s Rugby Championship is into its seventh edition as organisers Malay College Old Boys Association (MCOBA) continue in their bid to help develop the sport. Timesport gets a clearer picture from MCOBA president Tunku Datuk Ahmad Burhanuddin Tunku Datuk Seri Adnan.
Question: How does it feel to have come this far in organising one of Malaysia's most prestigious school rugby championships?
A: Of course I am really happy because all these years, we only invite the top Malaysian schools. Some states have sent in three schools but because it is a seven-a-side competition, it is actually a tournament that showcases the best of the best.
Take a regular 15s tournament and you probably will not be able to achieve what we have here at MCKK. Here, champions play against the best. The competition has also served as a good networking platform among the rugby players who will eventually go on to play in the national side.
Q: How are these schools selected and how do you say they are the best?
A: Firstly, the MCKK Premier 7s is a tournament that brings in all the state champions and runners-up. Most of the time these are schools with a tradition of playing rugby. When the best come up against the best, they push harder to be better than the rest.
After all these years, we have grown to become a prestigious event and now everyone wants to be here. Take the 2015 champions Hong Kong Sports School for example. They are the best in Hong Kong and the team that won that year went on to play in the Asian Championships last year.
Q: Since the first edition in 2011, there's always been 24 teams competing. Are there any plans to increase the number in coming years?
A: The competition has not only grown from a rugby point of view but has become somewhat of a carnival for the people of Kuala Kangsar. You have fans, family members and former students who are all very passionate about the tournament.
We have kept the number at 24 because it makes it ideal for a weekend tournament. Since it is a seven-a-side championship, we limit each match to seven minutes a half and a minute to switch sides. If we increase the size of the tournament, we may not be able to achieve this. For now, it is just nice.
Q: What has been the main motivation for MCOBA in organising this tournament?
A: What motivates us is that we are all still together in this. Good old friends who all played rugby in the past. Over the years we all also made friends from other schools and till this day, we are all still involved because that is rugby. There is a saying that rugby is a hooligans game played by gentlemen. And that is how I see it. These boys playing now will go on to play in their varsity years and then maybe, the national team or other uniform bodies, but what remains is that bond.
Q: How does the MCKK Premier 7s come into play as a national development programme?
A: Firstly, I am proud that MCKK is part of the national development programme for rugby. We have not won all the time but we have so many other schools stepping up, developing rugby all the way through networking. We also have scouts over the weekend who will select players to be roped into the national team. It's a healthy way of promoting the sport because under the education ministry we are there in their calendar.
No other tournament is bigger than this and if they are to be any other tournaments, they will have to go around us and not many will go because everyone will want to play in the MCKK Premier 7s.
Q: What were some of the new inclusions this year?
A: Our aim is to try and bring in a new international team, because our local schools will only get better when they go up against some of the best in the region.
This year we have the Indonesian school (SMA Durunnajah) who were recommended by the country's rugby union. We were supposed to have a school from Sri Lanka but they were on a tight schedule and could not make it. Scots College, the 2014 champions from New Zealand, are focusing on their 15s this year but have given their assurance of joining next year. A competition only improves with the participation. A lot of resorts have also been coming up, which promotes tourism for Kuala Kangsar and then Perak and eventually the whole of Malaysia.