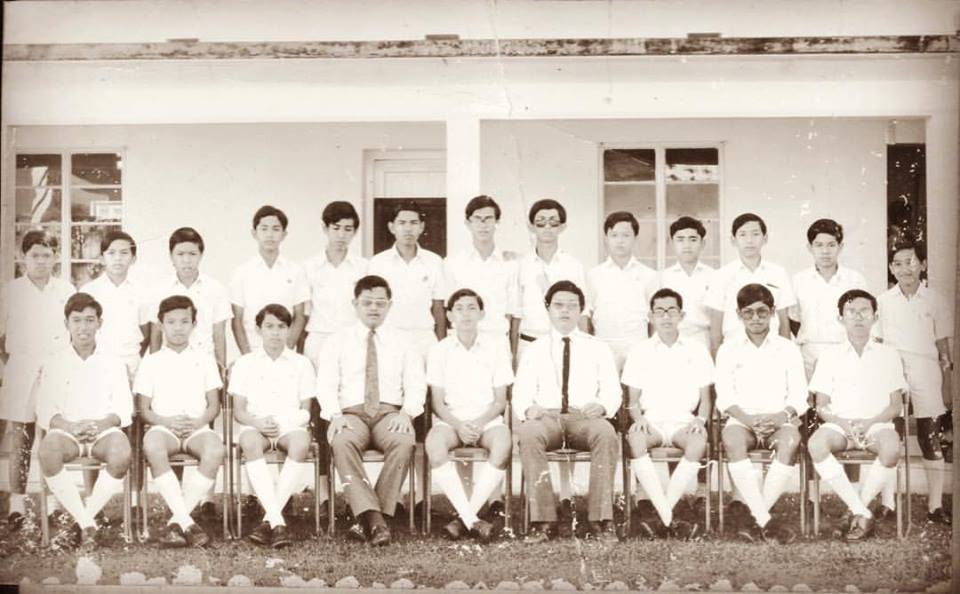 This picture is a group photograph of the Junior Debating Society MCKK 1974 which comprised of 3rd formers and 2nd formers.
Debates were encouraged during the seventies for it was well known that Collegians given a chance to talk would really talk. The Collegians of the seventies remembers well the inaugural Piala Perdana Menteri (PPM) that came to MCKK in 1974. The classy trophy was donated in 1973 by a MCKK Old Boy Tun Razak, our second Prime Minister and was designed by Datuk Badaruddin Kassim, another MCKK Old Boy. For most, this was the first time seeing bus-loads of boarding school girls in College.
Many hearts were broken then and many voices lost for cheering on the girl's hockey matches that were side-liners to the main debating event. The College prowess in debates was renowned all over. The 1976 and 1978, English debating team, won the Piala Perdana Menteri (PPM) – English section; whilst the Bahasa Malaysia team was finalist/runner-up in PPM – Bahasa Malaysia in the year 1975 and 1978 but finally won for the first time the acclaimed PPM trophy in 1980.
Sitting (L-R): Prof Dr Zulfigar Yassin, Dr Iskandar Ismail, Mohamad Marzuki Mohd, CG Mohamad Amin Alang Endut, Mohd Hisham Isa, Mr Yeoh Meng Teck, Syed Sheikh Alhabshi, Prof Dr Din Suhaimi Sidek, Zulkifar Sulaiman.
Standing (L-R): ?, Arwah Nasrim Salleh, Mohd Shah Said, Azman Abdullah, Zulbaharin, Muhammad Hj Yahya, Abd Baith Azman Ali, Arwah Mohamad Suhaimi Sulaiman, Khairul Annuar Mohd Tawi, Jasmani Mohammad, Hazellah Rahman, Fauzi Sulaiman, Dr Tengku Shahrom.