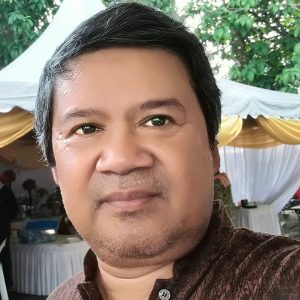 The beat went silent on the morning of Friday, 24 August 2018, as Sdr. Nordin Mohamad Desa @ Buyong C'73 (Spiders), to a place where souls will rest peacefully among the righteous and faithfuls. It was easy to be fond of Buyong, the slight rotundity lending a nickname lasting a lifetime, for he had the ever-present effervescence, and took upon himself to organize most events for his batch.
Buyong had a career in telecommunication and technology, with stints at Telekom Malaysia, Ericsson and was one of the founding management group of MTDC. He was besotted with Azizah, whom he met at a train station in London, made her a wife not long after, and an inseparable soul partner for 41 years. They both had 3 daughters, 2 sons, and was further blessed with 3 grandchildren. May the family find solace and appropriate guidance in this difficult period. Buyong led a well sorted out life for a village boy from Gedangsa, on the outskirts of Sabak Bernam, for he was one of those who truly enjoyed boarding school.
In many ways he subscribed to the upward mobility that MCKK offered back then, and the fact his life was enriched by the friendships and camaraderie. This was strengthened further with his two sons, Dr. Ikmal Arif C'03, and Ikmal Afif C'05, following his footsteps in joining the fraternity. Complementing the brothers are their sisters Nurul Huda, Dr. Nurul Zaynah and Dr. Nurul Izzati.
All of us will miss a generous and kind soul as Buyong was. May his soul be blessed by Allah SWT. Al Fatihah.