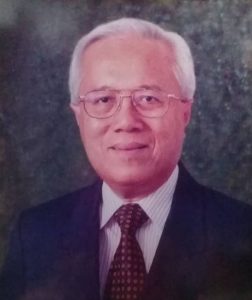 Popular with his friends and colleagues, Dato' Abdullah Zawawi or Zam to his colleagues and family, was noted and respected for his quiet sense of humour and friendly demeanour. But that did not compromise on the fundamental principles of integrity and hard work that characterized his traits and personality. Dato' Abdullah had been described as belonging to "a rare breed of Malaysians who could blend decorum and civility with intellectual dexterity." Add to that, firmness and high discipline in office.
Dato' Abdullah had earned the distinction of being in public service for more than 35 years with a notable career in the Ministry of Foreign Affairs. He was appointed as Ambassador to Turkey (1980-1982) – the youngest ambassador appointed at that time – and later, to Egypt (1982-1986), Indonesia (1989-1993) and as High Commissioner to Canada (1993-1997).
Dato' Abdullah Zawawi passed away on 28th July 2019 at the age of 79. This marked the closing of another chapter in the lives of distinguished Malaysian diplomats from the old school.
What a tragic loss it has been to his family and the many friends who had known him well as their colleague, as well as to fellow diplomats of the old school Art of Diplomacy.
Born in Parit, Perak the son of Haji Mohamed bin Alang Arshad and Hajjah Arba'ayah binti Mahmid, he was the 7th of 10 siblings. Amongst his elders was one Dato' Zulkifli bin Mohamed, known historically for the role he played as a co-founder of PAS (Parti Islam Se-Malaysia), the other, being Dr. Burhanuddin Helmy. Dato' Abdullah Zawawi was educated at the Malay College Kuala Kangsar and belonged to the Class of 1957 ("Merdeka Boyz").
Dato' Abdullah left behind Datin Jamilah Abdul Jamil and their two daughters, Nadia and husband, Zaafir (Vinny), Adila and husband, Razman (Rob) and her children, Alex Zakaria and James Jamil. Dato' Abdullah's father-in-law, Tan Sri Dato' Abdul Jamil Rais, was a distinguished Malaysian administrator holding eminent positions in the country, among which were the Menteri Besar of Selangor and High Commissioner to the United Kingdom.
The MCOB (the Malay College Old Boys) community gravely feel the loss of a good man and a distinguished Old Boy of the Malay College.