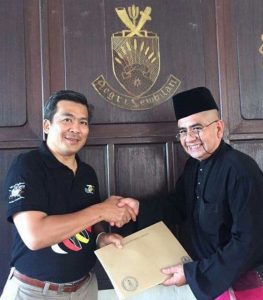 They say, no one is indispensable, and, Malay College was never about one man.
I desperately wanted to believe that in the 80's when Malay College was going through rapid changes with old masters being transferred due to promotions and I had to go through 3 Headmaster change in 4 years.
The school was in tatters.
Luckily a few remained, Mr Amirthalingam was one. His wish not to be transferred was personally granted by His Majesty Yang Di Pertuan Agong himself, announced during the Speech Day of 1980.
The school was in tatters too in June 2010 when Anand came in. Loosing to SMK Temenggong Kati 5 or 6 – 0 at football and by the dozens against STAR at Rugby…and no where near the top 10 amongst the top schools for SPM.
Anand's Headmastership came as a national celebration. Yut Loy was full that weekend with MCOBs, after a two year long campaign. His transfer from Kementerian Pendidikan Tinggi to Kementerian Pelajaran was nothing short of a saga too.
We spoke a couple of times privately at his office in Putrajaya more as junior – senior than parent – future headmaster. He was willing to, like a dutiful alumnus would, sacrifice a lot in returning to serve the Alma Mater but most heartfelt for me to hear was, to be taken away from Cikgu Hayati for most of his time. Luckily she had been a teacher there too, and had been conditioned for as long, as a MCOGA…Old Girls Association (by marriage) and MCOTA …Old Teachers Association by profession.
Malay College, MCOBA, The PTA, The Board of Governors and all of us have a lot to thank Cikgu Hayati for.
Anand wasted no time in rebuilding the school. Putting in place Back to Basics discipline among students but most importantly among teachers, some of whom were quite misguidedly resistant.
Sure enough, you don't have to sound bombastic and super smart with post modern education ethos in the management of schools like Malay College or any other for that matter. By 2014, Malay College had 7 National Titles in that single year including Quran Recitation alongside Robotics, English, Malay Debates and Basketball in one single competition.
"Junior scored the solitary goal against Clifford School. We are Champions again". Anand texted me late one afternoon from SMK Sayong where the KK final was held.
"Night Town Leave !.. I replied.
The simple practice of rewarding the whole school which worked delightfully in the 70s and 80s.
I'm probably biased in my tribute to Anand. He was a fifth former and an all round sportsman when I was an impressionable 12 year old Prep Schooler in 1979.
But something about that year which was pivotal. That was the last year MCE was held in Malaysia. It was SPM all the way since and nobody in Malay College could speak English quite like Charoen Wardini Mokhzani or Victor Faisal ever again.
That year was also the last time "The Dragon Dance" was allowed to be held. To get the school permission to hold it and why a batch would be so honoured to be let one requires another long essay but suffice to say that it required the whole batch to be united in good and in mischief….and most times, in subtle defiance of authority.
It was never allowed again after that November night in 1979.
It was spectacular…the flickering lights, the deafening sounds, and the sad parting songs afterwards sung in croaky male voices in front of the old canon of Big School.
The necessary "Big Closure" in playing the role of a collegian, if you like.
Anand went through all that and more as a Malay College boy.
(He was the only goal keeper who took penalties during MSSPk I think when Malay College was beating other schools by rugby scores at football. Anderson was just a minnow then) which accounted for his success as a teacher in the 90s and final official service to the Alma Mater as Headmaster since June 2010.
Anand and Yati sacrificed a lot already and it would be absolutely selfish to petition the King for Anand's stay till 60.
It would be almost impossible for any in coming Headmaster to fill in Anand's proverbial glass shoes than this essay could possibly detailed why.
They say, no man is indispensable…let us believe that it is true this time, for Malay College's and the training of future leaders of Malaysia sakes.
Let me not end this essay with the standard FSV as usual but the with the spirited chants instead, as heard by a 13 year old from the fences of New School… the flickering lights in the dormitories of West Wing that November night 1979.
…"Thoroughbred ! Thoroughbred ! Thoroughbred !….
…for we really need one, and always, at the helm of the beloved Alma Mater.
Thank You Anand Baharuddin, Class of 1979.