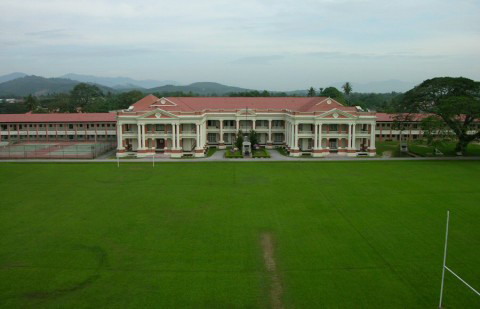 KUALA LUMPUR: The Malay College in Kuala Kangsar, Perak, is one of the nation's most prominent boarding schools with a proud record of producing some of Malaysia's most illustrious political and corporate leaders.
Take this 12th national general election, for example. There are at least 15 candidates who are former MCKK boys — nine are UMNO candidates, five Pas and one from PKR whose non-contesting party adviser, Datuk Seri Anwar Ibrahim, was also an ex-student.
Weekend Mail spoke to two of them — Wan Abdul Hakim Wan Mokhtar and Mohd Zahir Abdul Khalid — both from the Class of '85, who said they were not surprised to see many former students in politics.
Wan Abdul Hakim, who is the BN-UMNO candidate for Air Putih, Kemaman, Terengganu, said he expected the number to be bigger. "There is nothing to be surprised about. It's a known fact that the MCKK produces the best among the best in any field, including politics. "When you have all the best students cramped into one place, there is bound to be a lot of jostling to be No. 1. "To sum it up, MCKK students have had their share of experience in political reality and survival."
Asked how the college is able to produce leaders, he said it is not done intentionally.
"Students who are accepted in to MCKK are all special in their own ways. The college only helps to enhance our capabilities in different ways. "It was like a psychological war. Everyone wants to be the best and with that in mind, everyone wants to outdo each other, which led to us to acquiring leadership skills. "I also think that our sportsmanship has brought us together."
Mohd Zahir, the BN-UMNO candidate contesting in Kamunting, Taiping, Perak, echoed this view. "MCKK boys are vocal in ex pressing their views. As such, it's not a surprise to see their names in the list. "During our days in MCKK, students had always known to be diplomatic. Personally, I have developed an interest in politics since young. Both of my parents being active members of UMNO."
He said MCKK had helped him enhance his interest in this field. While at MCKK, Mohd Zahir was active in campaigning, especially for the students' association. "The college will not only nurture the students but enhance their abilities, as students who enrolled there are of many characters and interests. "It has fine-tuned our strengths to help us move into the next phase of life."
So wouldn't there be problems during school reunions, especially among those from political divides? "Why should there be any?" asked Mohd Zahir, adding that although they may have differences in opinions, MCKK boys have been taught to have a sense of respect for each other. "We are all able to argue our thoughts in a civilised manner and I think that helps to keep the ties close."
Said Wan Abdul Hakim: "We are as one when it comes to MCKK reunions. Regardless of which year we graduated or from which political party we came from, we would put our political agendas aside, and chat about our good times together and how we have moved on."
Minister in the Prime Minister's Department, Datuk Seri Nazri Aziz, an MCKK boy from the Class of '71, said it was a pleasant surprise to know that there are many former students on the list. In 2005, Nazri was quoted in the media as saying that the college had not been producing students who rose to become Malay political leaders in the recent past. "When I look at Malay leaders below the level of ministers today, I cannot identify anyone who is the product of MCKK. It is sad. Something must be done to correct the situation," he had said then.
Nazri cited the focus on Science subjects in the secondary education system, where science students are not interested in pursuing politics, as the obvious reason. He added that less than 10 per cent of the students chose the arts stream, something MCKK had to change as almost all the political leaders of the past came from the arts stream.
Nazri, when contacted by Weekend Mail on Thursday, stood by his statement, saying that there are still not many MCKK students who are leaders, not like before. "They (MCKK) should go back to the old system, whereby they produce more trained administrators and not scientists. "I am very grateful to Education Minister Datuk Seri Hishammuddin Tun Hussein for allowing the college as one of the few selected schools to be given the autonomy to decide on the curriculum to be used for the school."
Since its establishment in 1905, MCKK has been an exceptional educational institution for Malays of all backgrounds, producing many national leaders, corporate figures and intellectuals.