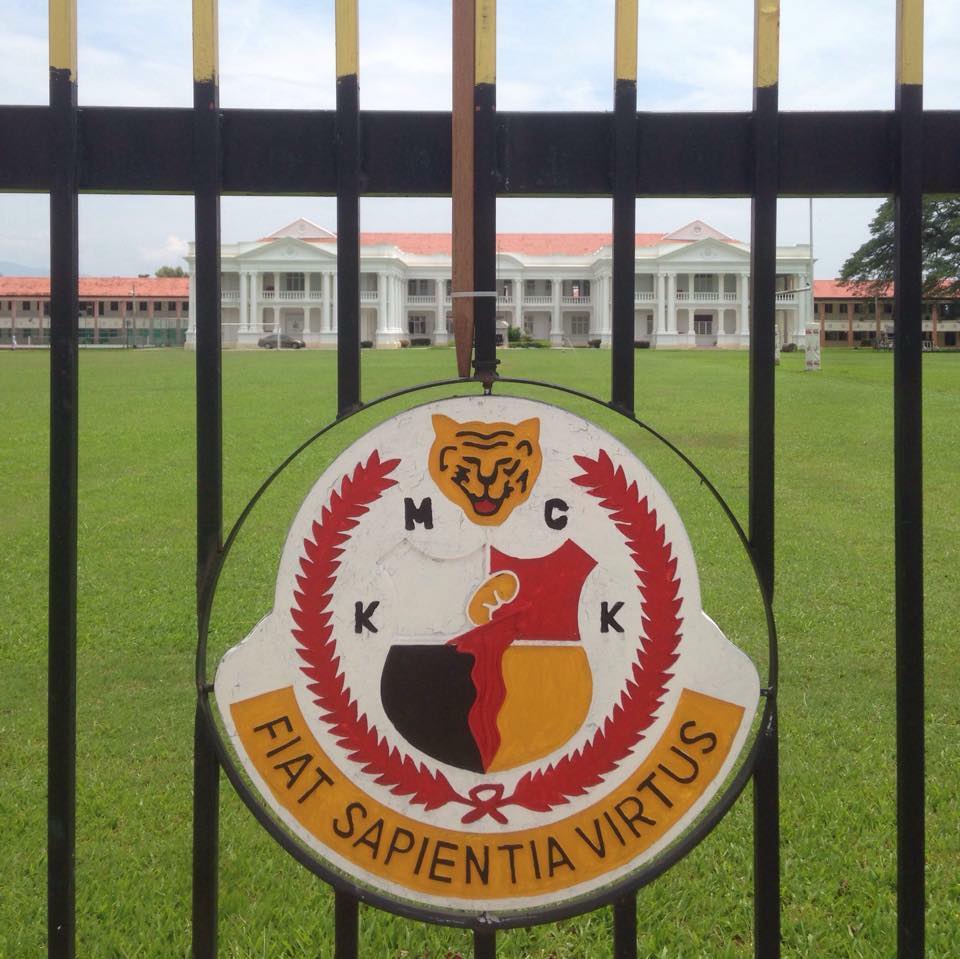 MEMORABLE REUNION: Shahar Effendi Abdullah Azizi, an old boy of Malay College Kuala Kangsar, recalls his student days at the exclusive school.
Naveen Mathew Menon, NST
TO be an old boy of Malay College Kuala Kangsar (MCKK) is to be in the company of some of the who's who of Malaysian society. Known as the Eton of the East, the school has produced  outstanding personalities in the country.
Sultans, menteris besar, prominent politicians and captains of industry have passed through the portals of this leading institution. When men in well-tailored suits complete with the right accessories gathered at the Malay College Old Boys Association's (MCOBA) 2013 reunion dinner at Hotel Istana recently, they smacked of this exclusive MCKK heritage.
Groups of old boys were seen laughing and joking with one another as they reminisced about their good old days at the college.
One of the students, mining engineer Shahar Effendi Abdullah Azizi, 53, director of Johor Department of Minerals and Geo Science, who graduated from the Class of 1978 painted a concise picture of what it was like to study at the elite boarding school.
"I used to hear stories from my grandfather Mat Som, my father Abdullah Azizi and even my eldest brother Ahmad Anuar about how fun, exciting and fulfilling it was to gain a solid education at MCKK.
"It became my childhood dream to study in such a good school and I studied hard to make my dreams come true.
"It was hard for me to get into MCKK. With only 4 As instead of 5, I had to study for a month in SM Sains Perlis because I did not get into MCKK.
"I re-appealed to the MCKK's board and they decided to let me study there after noting that my grandfather, father and even eldest brother were all alumni of the school.
"In 1974, I was admitted into MCKK and I felt an overwhelming sense of joy and happiness because I knew that my childhood dream had just come true!
"I made many friends at the school and we soon became like a big band of brothers. As this was a boarding school, our gang soon became the best of friends and we had a great time studying and playing games together," he said.
"The school which is known to produce the crème de la crème of society counts Tan Sri Azman Mokhtar, Managing Director of Khazanah Nasional Bhd; Datuk Seri Hishammuddin Hussein, Defence Minister; Datuk Saifuddin Abdullah, Deputy Minister of Higher Education; and many others as distinguished alumni members.
"As we were all a tightly-knit group of friends, we came up with nicknames for one another.
"One of my best friends, Ahmad Azhari Abdul Manaf, was called 'Nyamuk' while another, Mazlan Madon, was called 'Melon'. At one point in school, I used to keep my hair long and after giving it a 'gonceng' (short haircut), my friends in school started teasing me by calling me 'Gonceng'.
"Over time, this nickname was changed to 'Jenggo' because of the haircut and because my friends thought it was cool to name me after popular musician Django Reinhardt who was all the rage then," he said.
"Once in a while my friends and I would sneak out of school in the middle of the night to frequent the nasi lemak stall nearby. We had to watch out for prefects, our strict discipline teacher Mr Gupta and our headmaster Wan Aziz.
Recalling the strict discipline in MCKK, he said, "We had to make sure that our beds were made each morning, our shoes were shined, our toothbrushes were clean and that we always looked neat and tidy, otherwise we would be punished.
"I remember how my friends and I would wake up at 5.00am daily to queue up to use the common toilets with our soap cases in hand.
"At times, when the queue was so long, we would skip our bath so that we could make it to class on time and not be reprimanded for being late. Those who skipped their bath would joke that it was 'dry cleaning' day," he said.
"Friends used to pass around cigarettes and I caught the smoking habit even though I was a good student who usually obeyed the rules.
"We used to hide our cigarettes in our socks and in secret places to avoid getting caught and disciplined. Cigarettes we smoked then included Rough Rider (not available now), Benson & Hedges and Dunhill," he said.
"On the rare occasion when I was disciplined because cigarettes were found in my clothes that were hung out to dry on railings outside our dormitory, I had to attend detention class, clean the toilets, mow the lawn, sweep the school or do other chores. I was rarely disciplined though because I was a good student," he said.
"One funny incident that stays with me till today is how my friend Azhari or 'Nyamuk' used to sport an afro hairstyle back in 1978.
"In order to avoid getting caught, he would style his hair with gel and comb it down so it looked like he had short hair. One day, our disciplinary teacher called his bluff when he touched his hair and suddenly it puffed up again," he said laughing, adding that 'Nyamuk' was immediately disciplined for breaking the school regulations.
"As I was on a RM100 scholarship, this monthly allowance, which is probably worth more than RM500 today, was sufficient to pay for whatever I needed back then as in those days inflation was low.
"My friends and I used to enjoy eating together in the 'mess hall'. When some friends could not make it to lunch or dinner because they had other appointments, we used to tell the kitchen staff that we would 'keep' their food for them on our table but instead would help ourselves to it.
"On some days, the chicken tasted like plastic. We used to look forward to sitting with our teachers and prefects on a special platform overlooking the mess hall where the food served was better and tastier and we even enjoyed ice-cream!" he said.
"Another of my fond memory is that of my friends and I playing music as a group since Form One. I learnt to play the angklung and the guitar and we would have fun jamming at the school.
"Our band 'Wheel Machine' was a hit among the students and we would play at school functions.
"Artistes like the Bee Gees, Doobie Brothers, Santana, P. Ramlee and others were popular then. My friends in school were like brothers to me. Even today, my friends and I still play as a group, but Wheel Machine now performs at weddings, birthdays, corporate and other functions," he said.
"Joining the Cadet Club in Form Two was a great experience, too, as I enjoyed going on camping trips with my friends to the Port Dickson Army Camp where I learnt to use a real rifle.
"I am indebted to my favourite teachers like Mr Nadarajah who taught us English throughout high school and to my other English teacher, Gitu Chakravathy who taught me in Form Five," he said.
"I went on to study mining engineering at the University of Leeds from 1981 to 1984 before returning to Malaysia to work," he concluded.
During the reunion dinner, the alumni members enjoyed a sumptuous meal and were treated to a series of interesting performances.
The were plenty of laughter and cheers as a humorous skit and soulful music performances kept the crowd entertained throughout the reunion dinner and concert.