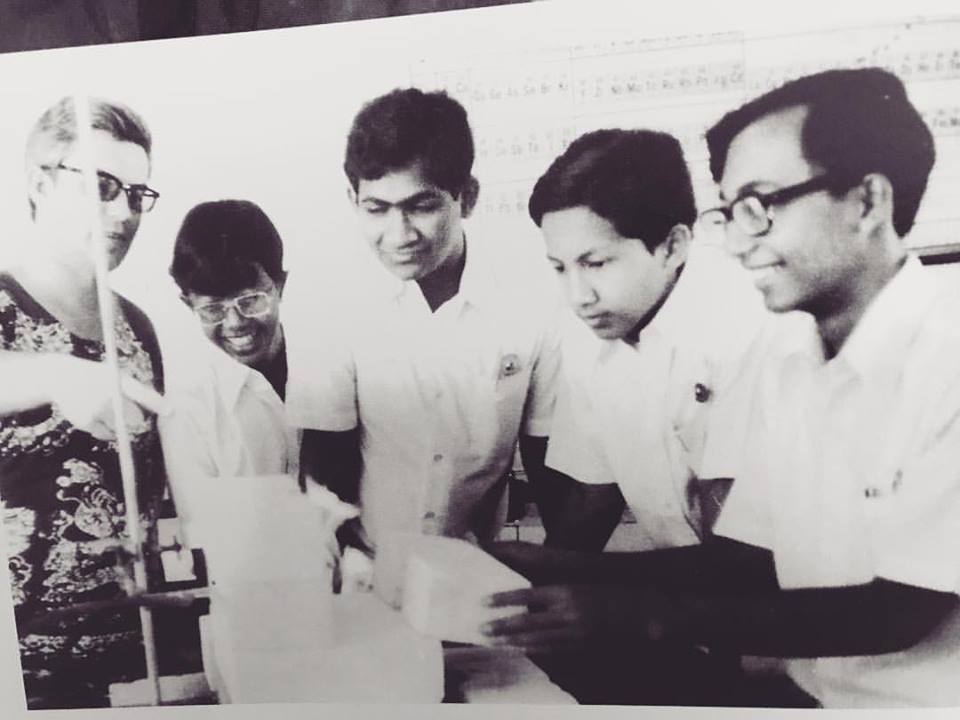 MCKK shows the Chemistry Teacher, Dr. AF Harmer supervising a group of MCKK over their chemistry project . The project: "Can schoolboys extract Tin from its ore and analyse the product" which basically equates to Could Tin be extract in laboratory condition? Though the chemistry of the extraction of tin. Is a simple redox reaction represented by the equation Sn02(s) + 2CO (g) = 2 CO2( g) + Sn (s). Since bunsen burner gives a temperature of only 800 C and for the reaction to work needs a temperature of 1200 C, a homemade furnace needed to be constructed.
This project won 2nd prize in the ESSO State Science Competition and 1st prize in the Chemistry Section at the National Level.
(L-R): Dr. AF Harmer, Engku Ahmad Kamel (EAK), Abdul Kadir Bakar (Funtul), Izham Shah (Heshaaz), Zainal Azhar Ahmad (Djain)
Not in picture: Riza Amirullah Beg (Beg)
All were from Class of 1976.