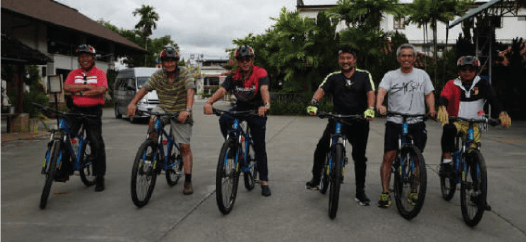 As most of C'75 members are turning 60 this year, they celebrated their "Merdeka" (happy retirement) by escaping to Chiang Mai to spend the Merdeka holidays.
Stretched from 30 August to 2 September, the group had a fun filled hiatus, cycling, singing, visiting the elephant sanctuary, the long neck Karen tribe settlement, the Royal Flower Park, Taksin Silk Center and the Gems outlet of Chiang Mai.
The group had cycled over 30 years of life working in various capacities, but cycling over 30 km through Chiang Mai's paddy fields, longan farms and the hilly terrains proved to be more challenging.
We took home wonderful memories of Thai hospitality, only the nocturnal activities remained in Chiang Mai.
Look out for Merdeka 2019 as the group is already planning another cycling holiday to Guilin, China.