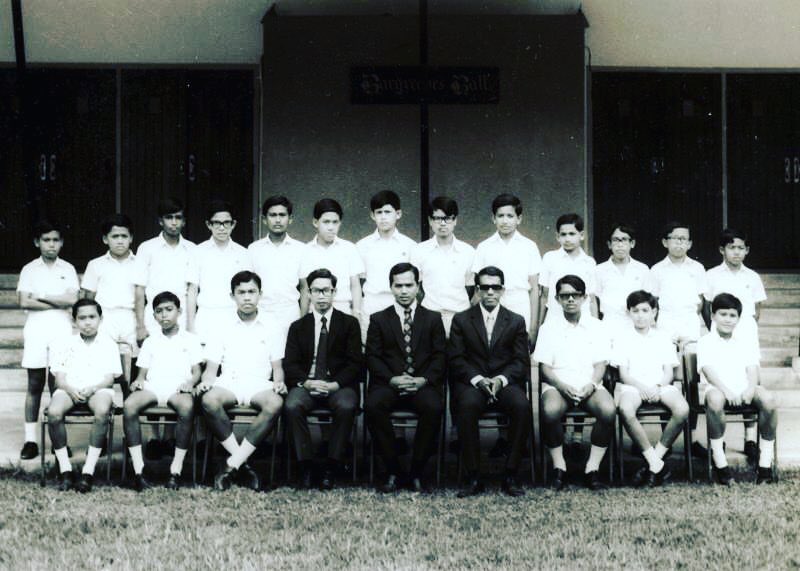 This is the Junior Union, MCKK in 1972, a subset of the bigger MCKK Students Union (later known KPKM). All those pictured were first formers as there were no 2nd & 3rd formers then. You tend to get the feeling that only big-sized boys and those with leg hairs were elected in. Being cute was an additional and optional criteria. These boys comprises monitors of classes, house representatives and other representatives in the senior Arts, Science & Maths Society.
Seating (L-R): Jak Li, Prof Dr Zulfigar Yassin, Dr. Hamidee Hashim, Mr Tan Gim Hoe, Cikgu Bakri, Cikgu Mustapha Kamal Rabah, Ar Ahmad Fahmy Mohamed @ Bumi, Mohd Hisham Isa, Redzuan Hanafi.
Standing (L-R): Mohd Jalal Taib aka Taiban , Aznir Malek @ Schnick, Mohamed Jalaludin Ismail @ Udin, Mohd Arif Omar, Shaik Ismail, Mohd Azahar Don @ Sakdon, Fadhil Hamzah Ahmad Yassin bin Mansor @ Fhay, Ahmad Amiruddin @ Chip, Syed Kamaruddin @ Syed K, Abdul Kadir Bakar @ Funtul, Kamaruzaman Azhar @ Jap, Zulkifar Sulaiman @ Kipaw, Raja Azmi @ Rayam.