"SPACE! Use the space!" Despite the cacophony of noise around him — of chatter and laughter, and the occasional raucous blaring of plastic horns from sections in the crowd — the frustration in the voice of Bahari Atan is more than audible.
His kindly eyes, squinting hard against the glare of the late morning sun, are focused on the pulsating action unfolding on the field in what is turning out to be an exciting 7th edition of the Malay College Kuala Kangsar (MCKK) Premier 7s rugby tournament.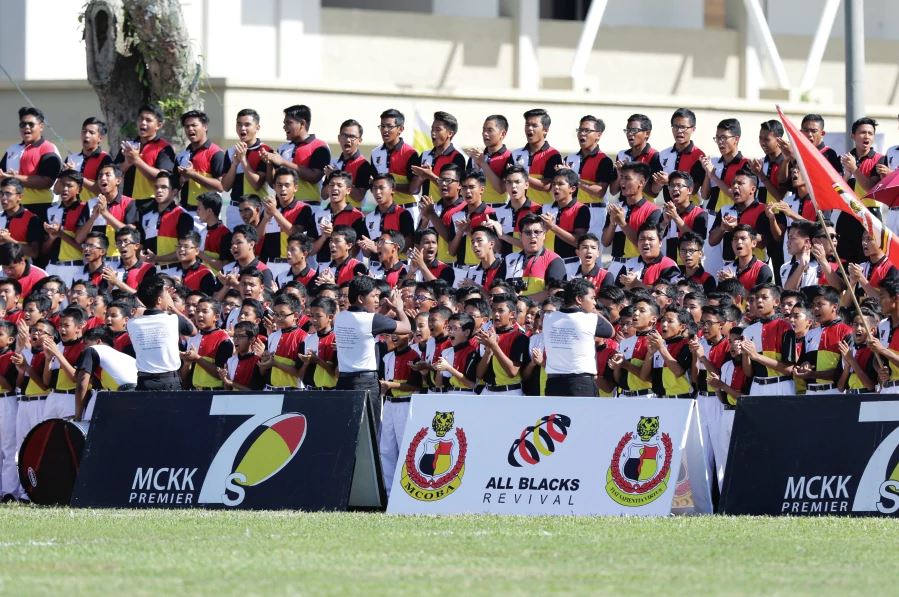 A frustrated sigh ensues as another attempt by a young lad clad in the all-black rugby ensemble of the Malay College Kuala Kangsar (MCKK) is once again foiled, the ball cruelly rolling away from his hands as he's tackled to the ground by two hefty opponents in a blur of vibrant red and green.
"We have pace. We should've kicked the ball into the space and made a run!" laments the 77-year-old, sounding almost mournful as he finally turns his attention to me. "We'd never have done that back when I was playing under Mr Ryan…"
Mr Ryan? I mumble questioningly, before silently admonishing myself for taking a nano-second too long to recognise THE Mr Ryan whom Bahari is referring to.
Pride in his voice, Bahari explains: "You know the winners of this tournament are awarded the NJ Ryan Cup kan? The Cup is named after the School's last foreign headmaster (from 1959 to 1965) who was also the man responsible for making MCKK a rugby force back in the days." But of course!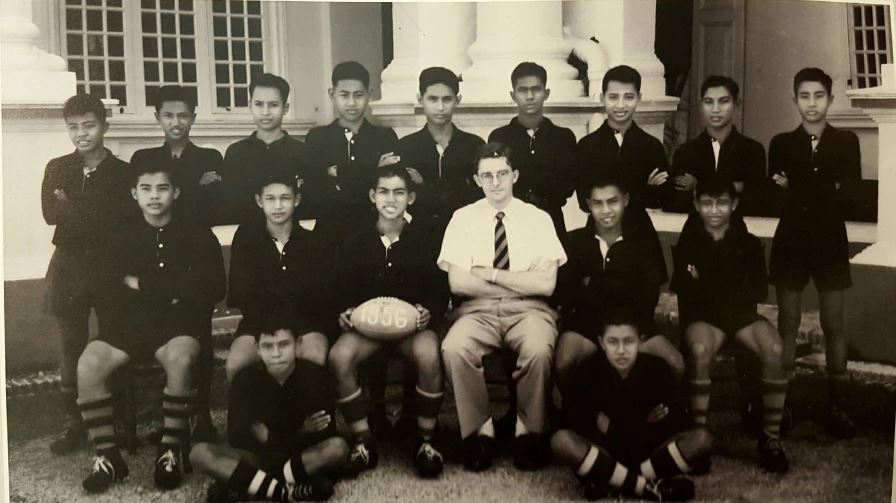 Dawn of a chapter
He was a lad of 13 when Neil James Joseph Ryan (or NJ Ryan as he was better known) joined the School as an Assistant Master sometime in November 1955.
Ryan first landed in Malaya in 1948 as part of the British Army reinforcement in the fight against the communist terrorists. The tall and lean Mat Salleh whom many of the boys thought resembled "an actor from the silver screen", recalls Bahari, was a rugby enthusiast. He was the one responsible for starting the under XV team in 1956.
The game, explains Bahari, had already been introduced in the college in 1924 but was shortly discontinued before resuming again for a year in 1947.
"It was banned by the-then headmaster who wasn't happy with the injuries sustained by the boys through their involvement in the game."
But, continues Bahari, Ryan was determined to make rugby a fixture at the school. Thus ensued a considerable negotiation between him and the headmaster. The latter eventually conceded to Ryan's request to introduce the game on a trial basis on condition that "…it didn't interfere with the other recognised sports". Permission granted, the initiation into the game of rugby began.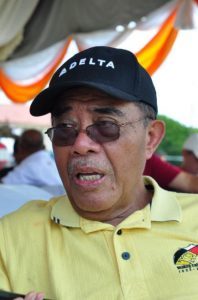 It must have been a Tuesday evening in May 1956 when a bunch of mostly 13 and 14-year-olds were driven to the polo ground, located a good 3.2km away from the Big School, to be introduced to a new game, wrote Bahari in his book, The All Blacks: The First Five Years 1956 — 1960, a tome penned in memory of the late Datuk NJ Ryan.
"But we weren't there for the polo. The Iskandar Polo Club was founded in 1923 by Sultan Iskandar of Perak but the game ceased to be played since his death in 1938. We were so excited to be out that day. Everyone, including all the kaki-kaki bangku who we knew didnt play any game at all were also out there that day. I guess everyone was just happy to be out of the school confines!"
The boys didn't waste any time once they reached the polo ground, remembers Bahari. "It was quite a sight to see a buah kana-shaped ball being thrown at us. Everyone went wild running and chasing after the ball, grabbing and then running with it. The fact that we'd fall and ended up with bruises didn't matter. Here was a game like nothing we'd ever played. That was how we were introduced to rugby."
All the while the boys were having fun on the field, Ryan kept his eyes trained on them. He was essentially looking out for talent, recalls Bahari.
"For the one month, he did this and eventually ended up with 25 players. But when it came to selecting the team, the number was reduced to 18. I was a part of the 18."
The mix of playing and gradual learning, writes Bahari in his book, maintained everyone's interest and enthusiasm and slowly the boys began to appreciate and understand the game. Before long, it was possible to select among the boys who'd acquired a rudimentary knowledge and skill of the game.
And in 1956, MCKK's first Under XV rugby team was born.
Minnows to kings
Ryan, says Bahari, wasn't interested in rushing the process of building a great team. He was more intent on developing "the college rugby nursery", namely the Under XV team, which, after two years, would have its players graduate into the School's First XV team. This "nursery" would be an incubator which would supply future players for the First XV team.
Thanks to all the training, the School's team, known as the All Blacks (Ryan was inspired by the All Blacks team of New Zealand) played beautiful rugby, recalls Bahari, eyes shining. "Our neat passing and tackling were a sight to behold. Our style of play became a source of pride and later a trademark of the team of the late 50s and early 60s."
It was at the end of 1957 when MCKK transformed from rugby upstarts to giant slayers. And it was a game that Bahari will have forever etched in his memory, "…for it marked the beginning of our ascendancy in the Perak State and Malayan schools rugby ranking," he says, proudly.
Rolling back the years, he likens that momentous game with King Edward VII School of Taiping, one of the premier secondary schools for boys, as a clash between David and Goliath. Recalls Bahari: "We were just the School's Second XV and our opponent was the First XV team of King Edward's. We didn't even have our First XV yet."
Continuing, he shares: "King Edward's was then the all-conquering rugby-playing school, feared not only in the state but outside too. We went down to Taiping and I remember they were very hostile. They used vicious words to demean us, chanting that we were just rugby upstarts."
But the so-called minnows of rugby from sleepy Kuala Kangsar silenced the roughly 4,000-strong supporters from King Edward's when they trounced their cocksure opponent, 6-0.
Smiling, Bahari shares: "We played as a team and we played to our headmaster's instructions, Ryan, who was our coach. We had our strategy. When you play rugby, you must have strategy. It's a thinking game. We had a good set of three-quarter backs (back-line positions of wing or centre) who played swift flowing rugby and tackled and passed very well. I suppose we also won the game because our opponent was over confident."
With the triumph over King Edward VII School, the rugby epicentre shifted from Taiping to Kuala Kangsar.
Says Bahari: "The following year we graduated into the First XV and we played against all the First XVs. We also managed to beat King Edward VII again when we played them here in Kuala Kangsar the following year."
Not many schools played rugby back then, recalls the sports-mad Bahari, who also represented the School in athletics, high jump, football and played hockey and cricket too. The boys, flushed by their newfound stature, went on to play in Penang against the oldest English-medium school in Southeast Asia, Penang Free School and won.
"Then we hit Kuala Lumpur and played against Victoria Institution — we beat them too. Belonging to that generation, I really feel like it was the heyday of rugby for the School. Not only did we have a great team, the esprit de corps (pride and loyalty to team) was all there."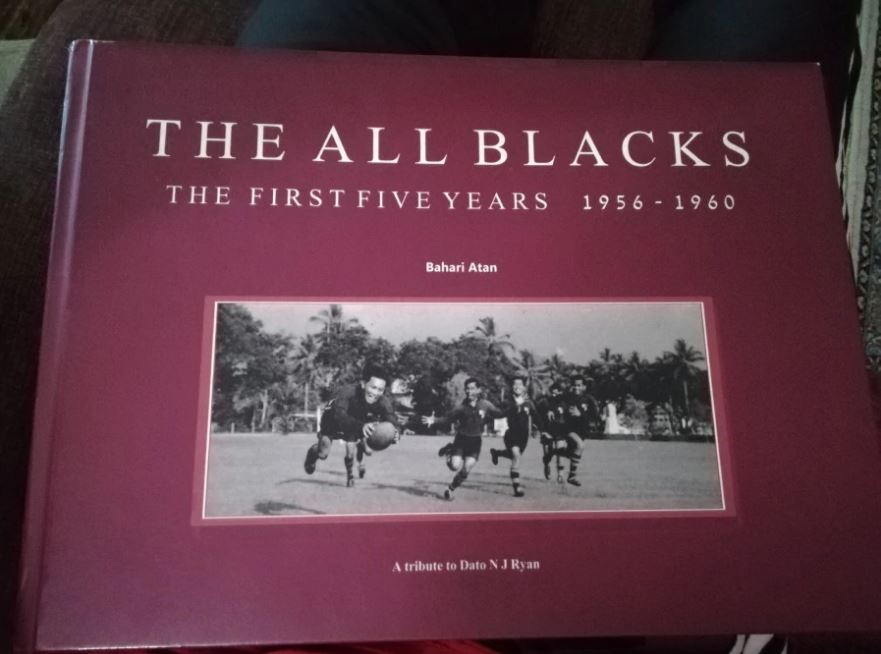 School-boy dream
One of his fondest images of the School, confides Bahari, formerly of MCKK's Mohd Shah "house" (students of MCKK belonged to "houses" named after four Malay rulers) is that of the big field. It was the first thing he saw when he came to the School as a young boy. "I was so excited. I remember thinking to myself, 'that's where I'll play!' We didn't have such a huge field back home in Selangor."
Chuckling, this former rugby wing three-quarter adds: "When i was in the higher forms, I knew only two things — either I'm on the field or I'm in class. People would say if you want to look for Bahari, go and look on the field!"
He chuckles again as he reminisces: "I was slight in built but I could really run. I had thighs that only sportsmen have In those days, the boys would cry if they didn't get the chance to pull on the school jersey. I was a regular fixture. The students didn't play only for personal glory. It meant a lot to bring glory to the school."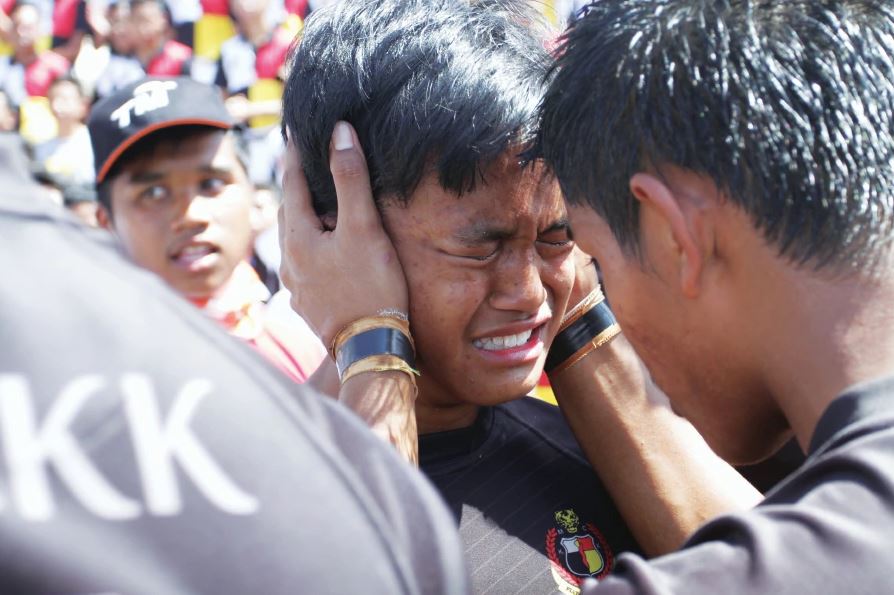 A new day
"So will you be joining us this weekend?" The sound of my aunt's voice jolts me out of my prolonged reverie. "Your uncle and I are going. You know la your Pak Lang… nothing will stop him. He hasn't missed a single game yet. Walaupun dah tua-tua ni (despite his growing years)," my aunt says, chuckling, as we make our way to lunch at a local mall recently.
Their bags packed, my uncle Bahari Atan and his doting wife, will embark on what has become an annual pilgrimage of sorts since 2011 to sleepy Kuala Kangsar for the MCKK's Premier 7s rugby tournament. There, my die-hard rugby stalwart and treasured 'old boy'-uncle will once again relive his rugby days as he squints hard against the late morning sun watching the action unfold on that hallowed field.
I'm praying that he'll have a lot to smile for this time around as his beloved school attempts to erase last year's moderate showing where the All Blacks finished the tournament in fourth place behind two national sports schools and SM Seri Mersing.
They better play that space well, I say, smiling to myself as I recall my uncle's anguished words on that sunny day when the sight of the ball trickling away from his player's hands made him wish for the days of Mr Ryan.
Hamdi Abdullah, Lawyer, IDRIS HOUSE

"Sekolah Sukan Tunku Mahkota Ismail is the opponent that MCKK will be looking forward to. They're the benchmark for all rugby players. Rugby is a tough game and 2017 was no exception. Losing was disappointing but you have to respect the depth and strength of the competition.
"The fact that the competition was at a very high level was a very good eye opener and opportunity for the team.This year we expect MCKK to be right up there. The competition will be tough but we would have learnt some lessons.
"This is one of the few tournaments that players look forward to. Home ground. Full cheering squad and high expectations. Winning and doing well will augur well for future prospects in rugby. After all, quite a number of the Malaysian Sevens team played at Premier 7s before."
Zainol Azmi Mohamed, Revenue Strategist, Former rugby full back, IDRIS HOUSE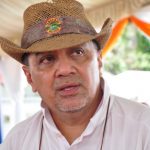 "Admittedly, we're not up to par yet but we continue to dream. We have to start somewhere. It has to be an escalation platform.
"I dare say that this tournament is THE tournament to look forward to by all secondary institutions. It has become the platform for unearthing new talents from across the nation for the future of the sport in this country."