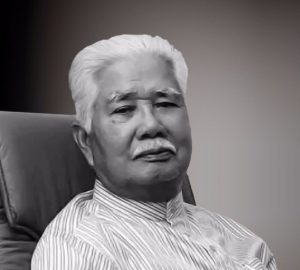 MCKK lost one of its illustrious sons when Tan Sri (Dr.) Abu Hassan Omar (C'57) died of
cardiac arrest on 8 September 2018.
The late Tan Sri Abu Hassan was born on 15 September 1940 in Bukit Belimbing Selangor and entered The Malay College in 1958 for his Sixth forms. He was made a school prefect in 1959 and was a member of the Cadet corps. He distinguished himself in sports where he excelled in hockey and represented MCKK. He was also a cricketer representing Sulaiman house. His late son Mohd Hasri C'86 was also a College cricketer.
The late Tan Sri Abu Hassan was an alumnus of Hull University, United Kingdom where he received his Bachelor of Arts (Hons), Master of Arts (Regional Development) and Honorary Doctorate in Science.
He held numerous posts in the Government namely; Minister of Social Welfare, Minister of Federal Territories,Minister of Foreign Affairs and Minister of Trade & Consumer Affairs before being appointed as Menteri Besar of Selangor where he served from 1997-2000.
He was laid to rest at the Shah Alam Royal Mausoleum. May Allah SWT bless his soul. Al-Fatihah.