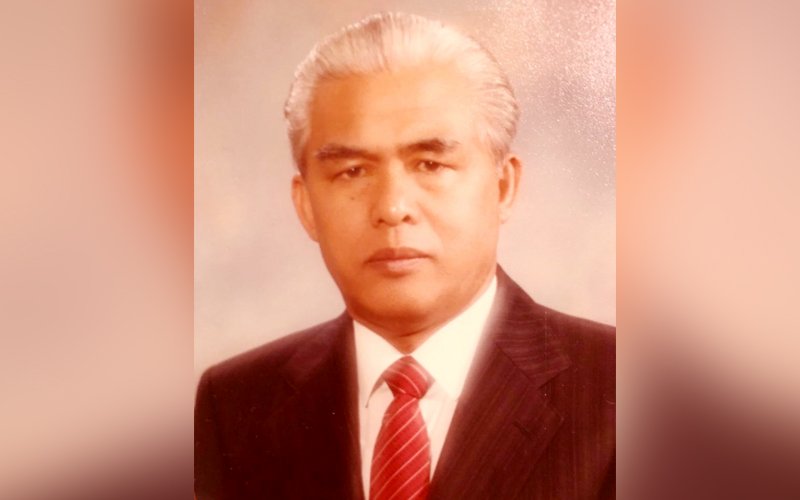 Selected News-reports on Dato' Rastam Abdul Hadi (1931 – 2020).
"If you do not cultivate your life's environment, you will not captivate the worlds enlightenment."
And often times, it is easy to go with the flow and forget one's potential. I have always been interested with the concept of A Hundred Men (and Women) of Malay College. I did talk to some at MCOBA back in 2004 but did not follow it through. Its raison d'être was not clear. And it would have been hard to go to 30. Arbitrary decisions some may say, of who should form the 100. The 100 would have served to inspire and shown the way for MCOBs. Ah, I was defeated, it seemed before I got started.
Yesterday, news broke to me: "Dato Rastam Hadi passed away this morning. Please upload on MCOBA appropriately." And seriously, Dato' Rastam was quite ahead of my adult life, so please forgive me for not catching on quickly. Google, and connectivity, told me fairly much about Dato' Rastam, and I feel that most MCOBs are not acquainted with Dato' Rastam, and those who had, are slowly losing their recollections of him. And easily, he is one of those A Hundred Men (and Women) of Malay College.
Orang Melaka is a proud people. And for good reason, they were more urban than the rest of Malaysia, as Melaka had been a city from way in the 1400s. And as far as MCOBs go, a fair number of illustrious ones hailed from Melaka, but Dato' Rastam is rare, of Bertam Malim rather than of the Merlimau/Jasin or Masjid Tanah, born 22nd May 1931.
Quite obviously, he took the genes of his parents, his father was a contemporary of Za'aba at Sultan Idris Training College. Abdul Hadi Abdul Hassan was the author of three volume Sejarah Alam Melayu (1920s).
Much information I share here is from an article by Datin Ragayah Eusoff (Jurnal Biografi Malaysia, Journal of Malaysian Biographies (2005) pp 53 to 72.)
Dato' Rastam went to MCKK in 1950 (to 1952) to sit in Form 6 class, having spent four years in Malacca High School, obtaining double promotion every year from Standard Four to Form Three (including at Bandar Hilir Primary). His contemporary at MCKK included Tan Sri Jamil Jan and Tan Sri Azmi Kamaruddin (our former MCOBA President).
Dato' Rastam pursued and obtained BSc (Hons) in Mathematics at University of Malaya Singapore, another rarity.
He joined the civil service in 1958 at the Ministry of Finance, until 1969 when he joined the Ministry of Defence. Tun Ismail Ali claimed that he saw Dato' Rastam in a vision after an evening prayer and requested him from Tun Razak, to make Dato' Rastam Deputy Governor of Bank Negara 1972-1974. In 1974, Dato' Rastam joined Tunku Razaleigh at Petronas, as its first managing director.
I take this opportunity to share a few references in written form I managed to get my hands on.
1. Long after he left Petronas (1989), an op-ed New Straits Times (20 October 2017, "More money, better quality grads?") still made Dato' Rastam a reference point.
"Employers, too, should not spend their time just lamenting the state of our graduates. They should do more. They should take some responsibility to train fresh graduates by sponsoring employ-ability skills development programmes. Or, better still, they should follow the philosophy of former Petronas Managing Director Dato' Rastam Hadi by hiring as many graduates as they can afford to be mentored, even if they are not needed now. This is laying the human capital pipeline for the future. Call it compassionate capitalism, but it is one of the many strategies that has made Petronas the only Malaysian Fortune 500 company."
(//www.nst.com.my/opinion/leaders/2017/10/292989/more-money-better-quality-grads?fbclid=IwAR3WS1zVunVNpBwxo8rs4I1nBs4htyH-BTVmWX3Ip8cRQWkQ391hMBEEDl0)
2. Tun Hussein Onn wrote to Dato' Rastam (10 January 1989)
"You have been with PETRONAS from its inception. It has grown up big, strong, clean and efficient. You have been one of those who have greatly contributed to this. Whenever PETRONAS is mentioned, your good name will always be associated with it. Your service to PETRONAS is priceless."
3. In building Petronas, it is my belief, that the toughest was getting the business away from the multinationals. And Dato' Rastam was the brains:
"But behind the flurry of activities in Petronas, one man stands out. He is seldom mentioned in the news papers but Encik Rastam Abdul Hadi, the managing director, is the "brain" behind the company's series with international giants like Shell, Esson and Mitsubishi.
While he may not have sat in all the negotiations, his advice and opinions are constantly sought. Together with other senior officials, he decides whether terms offered by oil companies are acceptable or not. He is well-known for driving a hard bargain in the national interest.
It is also quite well known that he treats oil companies with a certain measure of suspicion. It is not that he distrusts them, but more because he wants to guard against mistakes. He is fully aware of the position of Petronas as a young and inexperienced oil company.
By any yardstick, Encik Rastam is a meticulous but imaginative executive.
He feels strongly that conservation of resources and environment should be part and parcel of any oil deal."
(Business Times, 5 August 1978)
If any reader is interested, he should get a copy of the article by Datin Ragayah. She attributed the exit of Dato' Rastam from Petronas to being a "milking cow, as was evident in the bailing out in 1984 of Bank Bumiputra".
Clearly, Petronas was built on the shoulders of these special "confident nationalists", and the good work was continued by other fine men and women after Tengku Razaleigh and Dato' Rastam.
Dato' Rastam lived away from the limelight. Dato' Rastam Abdul Hadi passed away at 3.20 am, Saturday, 9 May 2020 (16 Ramadan 1441).
Our nation has lost its son.
Takziah to the family of Allahyarham Dato' Rastam Abdul Hadi, Datin Rafiah, his four daughters and son.
Al-Fatihah.
And as for us MCOBs, it is a good reminder of how much earlier MCOBs have put into this country. And that it is an inspiration to all of us to #keluarmembimbingnegara. We share this privilege with Malacca High! Let Wisdom Reign.
Hamdi Abdullah
Acting Chairman PTA MCKK
Honorary Secretary MCOBA
10 May 2020