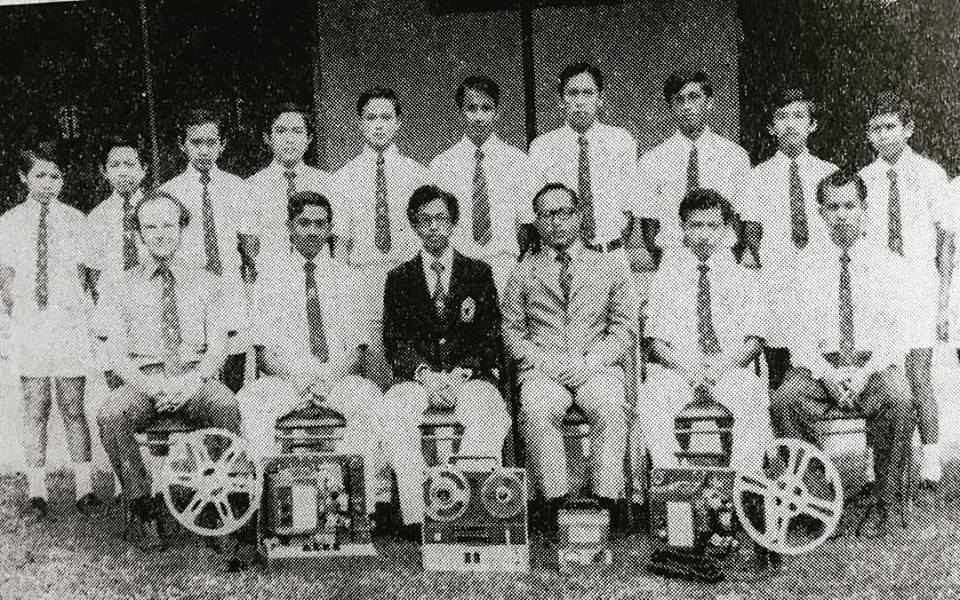 This is a photo of the students in the Cinema Club of MCKK 1976. The responsibility of the club lies in the screening of the weekly films at Hargreaves Hall, normally 12-14 per term. Other than that they screened charity show organised by other Clubs or Societies. The films were ordered from respective film distributors. The club was also responsible for AV or Public Address System at events.
The much anticipated Saturday Night Film shows were the most awaited treats on Saturday nights. The moment dinner was over that night, almost everybody would sprint from the Dining Hall to stake a claim of seats for their group in the Hargreaves Hall. Seat bookings were made through a show proof of spoons, forks, slippers, songkoks and sampins. The rest of the group would tread in soon afterwards. There, the collegians were free to laugh, scream, holler, shout and jeer under the cloak of darkness when the lights when out. The Collegians would boo and made catcalls if the Cinema Club projectionist fumbled during the film show.
The film show Saturday night of the seventies was a place of many screening of memorable films like the Summer of 42, the original Thomas Crown Affair, Dean Martin/Jerry Lewis Comedy films, Joe Don Baker's Walking Tall, Clint Eastwood's Spaghetti Western, like The Good, the Bad, & the Ugly, For a fistful of Dollar, the historical Bridge over River Kwai, the action pack Cleopatra Jones and nearly all the Dracula movies (starring Christopher Lee and Peter Cushing).
Normally, the film shows would start off with compilation of the ever favourite Lonney Tunes cartoons like Bugs Bunny, the Road Runner and Daffy Duck. For others Saturday Nights would be a night to go out to town illegally or now known as 'Fly'. Pity the Cinema Club is no more.
Seating (L-R): Mr PJ Dick, Raja Azman Shah, Syed Sheikh Alhabshi, HM Rahman Ali, Mohd. Rafiza Abdul Rais, Uztaz Marzuki Ibrahim.
Standing (L-R): Islahuddin, Fadzullah, Adnan Z. Abidin, Ramlan Bachik, Dato' Khairul Annuar Mohd Tawi, Dato' Jamal Hj. Nasir, Syed Aliasar, Roslan Osman Kassim, Dato' Zulkarnian Harun, Faisal.