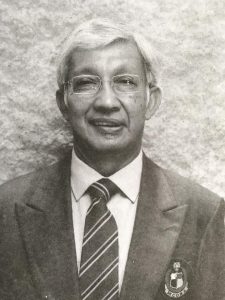 "..Haji Rozalli Noordin, C'61 (Tarinaga) passed away on Friday, June 16, 2017 @ 10:28 AM. Al Fatihah. May his soul be blessed and placed with the Creator. The remain will leave from UMMC at 1430 to go to Masjid Al Mukminum USJ 2 / 4S. Expected after the 'Asar prayers. And to be buried at the Muslim cemetery USJ22…"
That was the WhatsApp message that pinged out repeatedly in several WAG groups announcing the passing of a MCKK Old Boy, a MCKK Geography teacher, the Headmaster of STAR Ipoh and Chairman of the Board of Governors Kolej Yayasan Saad. A true blue educationist and part of the invincible MCKK All-Blacks 1963 Team.
Innalillah hiwainna ilaihirojiuun.
A dear old Geography teacher of the Malay College Kuala Kangsar (MCKK) and a former Headmaster is Sekolah Tunku Abdul Rahman (STAR), Ipoh died this morning on a blessed Friday in a blessed month, leaving a rich and accomplished legacy and memory of a Budak Koleq that would remain forever inside me, a person who plies his trade through education and its development.
Though Cikgu Rozalli did not teach me, but I had my first and lasting impression when I entered Form One in 1972. I remembered Cikgu Rozalli was teaching Geography in the Upper Secondary and was married to another petite MCKK teacher, Cikgu Robeahtun Ahmad Damanhuri. A smart dresser and drove around in a Volvo.
Cikgu Rozalli was an Old Boy from the Class of '61, (Tarinaga) Idris House, who played in the invincible MCKK All-Blacks team that first beat Vajiravudh College, Bangkok in the 57 years of the Annual MCKK – Vaji rugby game. He was the star threeQ (centre) in the great '63 MC All Blacks team. A great tackler and a gentleman. He also played rugby for Perak State, UM Varsity Blues, Selangor State and Malaysian International. That made him a MCKK legend and a hero in the eyes of a first former like me in 1972.
In 1972, he was the master in charge and coach for the MCKK All-Blacks. As I remembered, he was a strict disciplinarian and a tough coach. He was fondly known as Mat Chen and word has it was due of his liking for Chendoi. He was a handsome man and walked with a certain swagger, filled with confidence. He left MCKK for another school before becoming the Headmaster of STAR Ipoh in 1981 and STAR Ipoh became a formidable rugby school team under his tutelage.
He then went on up the Education Ministry hierarchy. He left the public education service to become the Director of Renong Education Centre (REC) after he was pursued by Tan Sri Halim Saad, an MCKK ex-student of his. Cikgu Rozalli Noordin, who by then was a highly credible educationist, became the man behind the school concept of Kolej Yayasan Saad (KYS) Melaka. He was responsible for the concept and construction of the school, which took a record four months to complete. Until his death today, he was the Chairman of Board of Governors of KYS.
Cikgu Rozalli Nordin was 73 and he looked just fine when I last saw him 4 months ago. He was staying at my neighbourhood of USJ and I was delivering at letter by hand from MCOBA Archives regarding setting up an interview about Ryan's Rugby Academy (RRA) – a colloquial reference of the glorious old days of rugby in MCKK.
The death due heart attack also came just a day after Old Boys sent me a text message in several WhatsApp group.
En Rozalli/Cik Robeahtun's daughter sent this message this morning:
"Assalamualaikum. My dad's condition is critical, the next 24 hours we will know how things are. Please continue to doa for him ya?"
I did not think much of that when I got it because about a month earlier, text messages came informing me of his internment in Ipoh Hospital for some lung infection and later followed by pictures of Old Boys visiting him.
Cikgu Rozalli, who is forever jovial, as I was told by my seniors was a superb Geography teacher and being a former player of the MCKK and All-Blacks coached the then school rugby team with passion like how his former Headmaster, Dato' NJ Rayan used to coach. That opened my eyes to magical world of the rugby through him in the early 1970s, during my early years at the boarding school.
Like most of the teachers during the period, he was a University Malaya graduate and undeniably old school, grinding and grilling into you what he thought needed to be pushed both in the classroom and in the fields.
The most glaring part about his lessons as I was told, was that he made it all very easy to understand — physical geography, topography, maps, the continents and exploring the atlas. He would step into the classroom barking stringent orders like  "Today you better get your focus right". Loud.
Many learnt the basic rules of subject though many did not know whether it would be useful in their future life. After all, geography is just physics slowed down, with a couple of trees stuck in it. Back then geography was an earthly subject, but a heavenly science. I suppose physical geography under him which holds many of his students good to this day.
He would opened up to the boys in the Geography Room the Atlas of other countries in this world, the terrains, the culture and the produce of other continents and how these would enhance your knowledge of the country your travel, years after school. To him, everything has to do with geography.
Though strict, Cikgu Rozalli carried out his lessons mainly through interacting with the students rather than writing notes on the blackboard.
The teacher spent a huge part of his working life teaching in MCKK (1968-1973) and as a ex-student (1956-1963) so it was quite understandable that his heart had always been with the school. His bonding with ex-students especially the rugby boys would continue long after they left the campus.
His words in the Centennial Team souvenir book sums up his love of rugby and MCKK:
"I am very proud of the culture of all-round excellence at College and playing rugby, particular, had the most profound impact in my life. It built up my self confidence and esteem and my appreciation of the importance of being a team player."
Just after Friday prayers and before Asar Prayers, the remains of arwah Cikgu Rozalli arrived at his neighbour mosque. As it the mosque is within my USJ neighbourhood, I went to the mosque to pay my last respect and offer my prayers to Arwah. I had a chance to offer my condolence to his family, Cikgu Robeahtun and his eldest son Firdaus Rozalli, also a MCOB from the Class of '90. His son-in-law Jamy Faisal, another MCOB C'95 was also there. I offered my prayers as the visiting friends lined up to say farewell to the lifeless remains before the final burial rituals.
The Al-Mukminin mosque was filled to the brim by his families, neighbours, friends, Arwah's batchmates from Class of '61 like Dato' Adnan Maaruf, Dato' Zulkifli Abdul, Dato' Seri Syed Danial…etc, Old Collegians, Old Starians, ex-students, ex-teachers, KYS students, corporate mates for his sembahyang jenazah. We prayed for his safe passage of a good man at his last resting place. As the coffin was carried to the waiting hearse, it rained drizzly.
In Malay folklore, if someone is buried as it rains, it is believed that the dear departed was a great person who had done good deeds. I supposed, Cikgu Rozalli must have done many good things as he had taught many as an educationist throughout his life, to educate others to do great and good things. To me, he was a great legend of MCKK and was indeed a good man.
To Cikgu Rozalli Nordin a.k.a Mat Chen the quintessential educationist gentleman, you shall be missed. Al- Fatihah.
"O Allah, forgive our Cikgu Rozalli bin Noordin, and elevate his station among those who are guided. Send him along the path of those who came before, and forgive us and him, O Lord of the worlds. Enlarge for him his grave and shed light upon him in it."