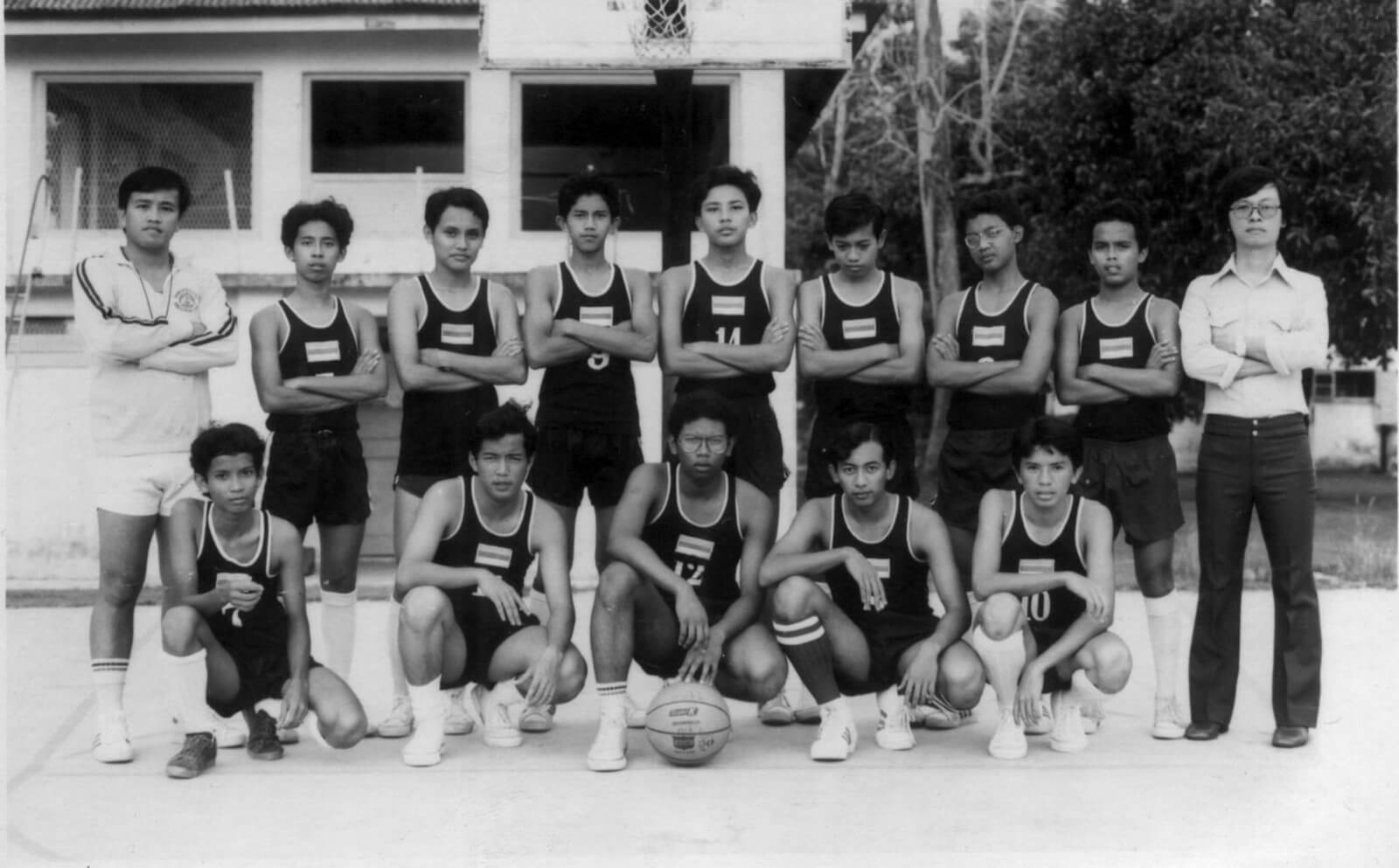 This is a write up of ACP Aziz Salleh (C'78), Chief Police Officer of Kuantan wrote on his chance meeting with Mr. Liew Yong Choon, the coach of MCKK basketball team, known as the McCagers in 1974 and how it all begin.
Assalamualaikum all brothers,
Congratulations to MC Cagers! Well done, we are the champion for two consecutive years. I believe besides Cagers hard work, Mr. Liew, the Coach should be given the credit towards the success of our team. With all his hard work, dedication and commitment to the team since 1974 here we are now, the Champ!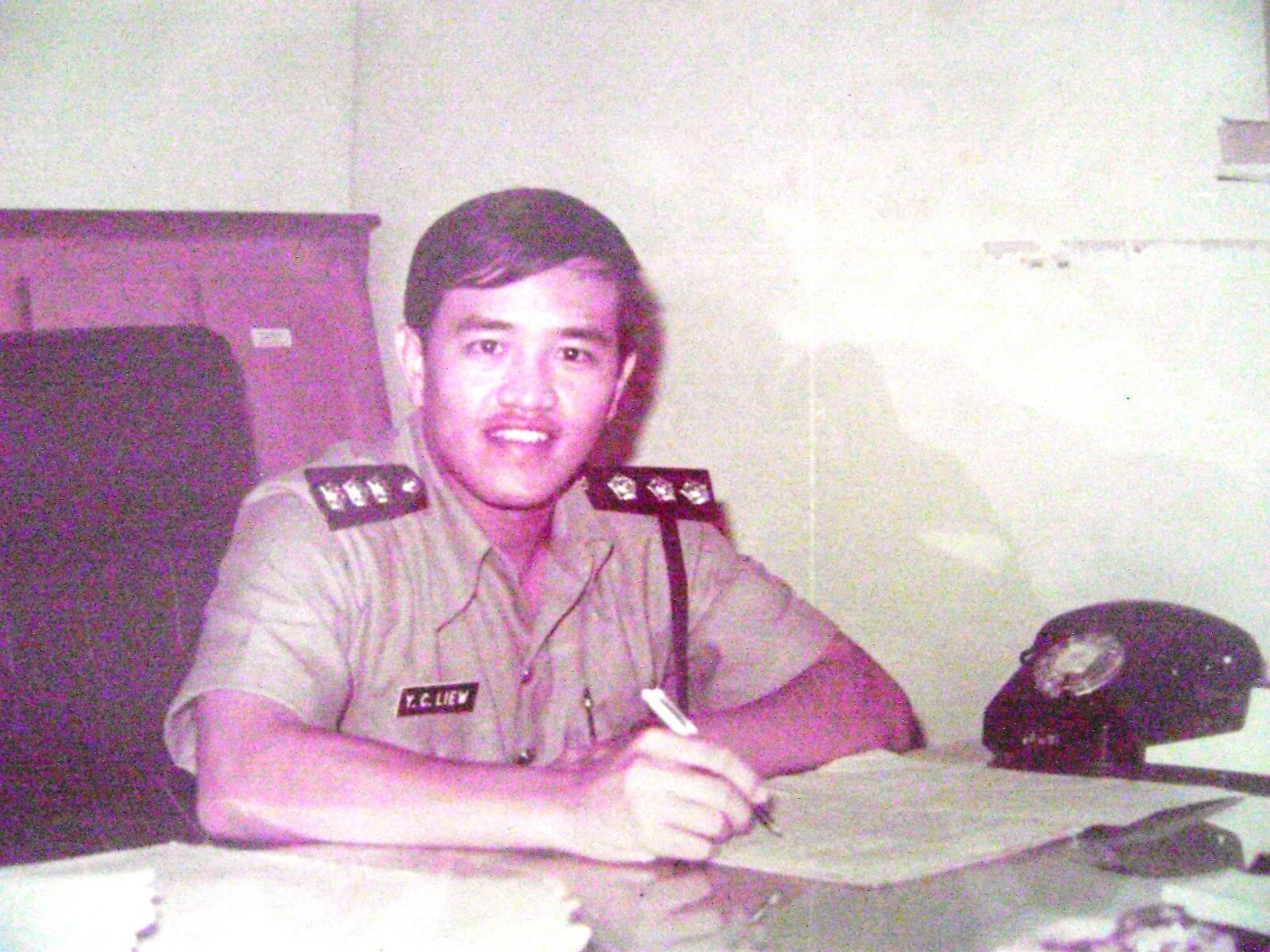 May I just share with everyone how I met Mr. Liew, our great coach. In 1974, at that time we were in Form 1, one afternoon just before the first term break, I rushed to the public phone outside our college to call my parent in Kuantan. I have difficulty cause the phone is not working and out of a sudden he came to me with his Vespa and tried to help me out but failed, then he wanted to send me back to college but I wasn't sure whether I should follow him. He told me that he knows few of our teachers namely Mr. Tan Chan Thaing, the physics teacher and few others. Looking at his sincerity I followed him back to college on his Vespa. He asked for my address in Kuantan and told me that he would like to visit me there. He caught me by surprised when he really visited me at my home during our term break.
During our chat, I told him I'm interested in basketball game. He said he's willing to be the coach and he really came to our college with Mr. Tan after the term break and that's how he started to coach our team. At that time, he was a temporary teacher in Taiping. Most of his friends are Malays and one of them is Acik Satay, Mengke and Hishe should know. We had a proper team in 1974 in which the team members are our senior, Riza Amarullah Beg, Schnick, Raja Azman Shah RAS, Samsuri Sawari, Hasnol, Halim Hussain, Hasman Yusri, Ikmal Hakimi, Dato Dr. Ramlan Abd Aziz, Rozlan Ismail, Joe and our batch Dato' Sarp, Dato' Loly, Md. Shah Ali, Ajak Majid, Nik Rushdi Nik Hassan, Zul Julod and few others.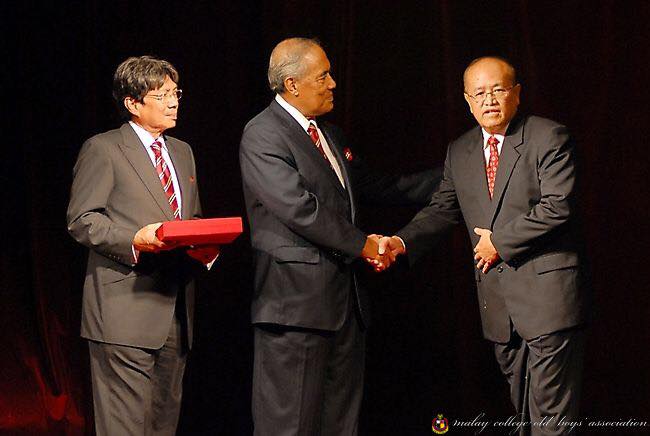 His dedication, commitment and all his effort cannot be measured. He sacrificed a lot of things to coach our team; his time, money etc. even when he joined PDRM in 1975 he sacrificed his leave and travel all the way from Kuala Lumpur to Kuala Kangsar to continue coaching and if I'm not mistaken he don't get paid a single cent on the effort done and no complaint from him. He took early retirement in 1996 at the rank of Senior Assistant Commissioner Police. He coaches MCKK team from year 1974 until now and we have been the champion of Piala Hamdan Tahir (PHT) for 10 times ie. 1977, 1979, 1981, 1982, 1983, 1985, 1992, 1993, 2004 and 2005. His dreams and target for MC Cagers to be the champion again for 2006, 2007 and 2008 champion for five years in a row! I feel is high time for him to be rewarded by MCKK.
I'm always in touch with him and recently he conveyed his personal appeal especially to all MCOB's basketball players to assist him achieving a much-desired and long-awaited dream to promote National Integration Thru Basketball. This idea came ever since his serious commitment coaching MCKK team and right thru after joining PDRM.
Probably, TS Amok (Tan Sri Azman Mokhtar), Dato' Sarp (Dato' Saifuddin Abdullah) and other MCOBA brothers can give it a thought if GLC can help out with some sponsorship programme to promote this game nationally. Dato' Sarp, Ise and myself had a short discussion on this two months ago but we need to discuss further.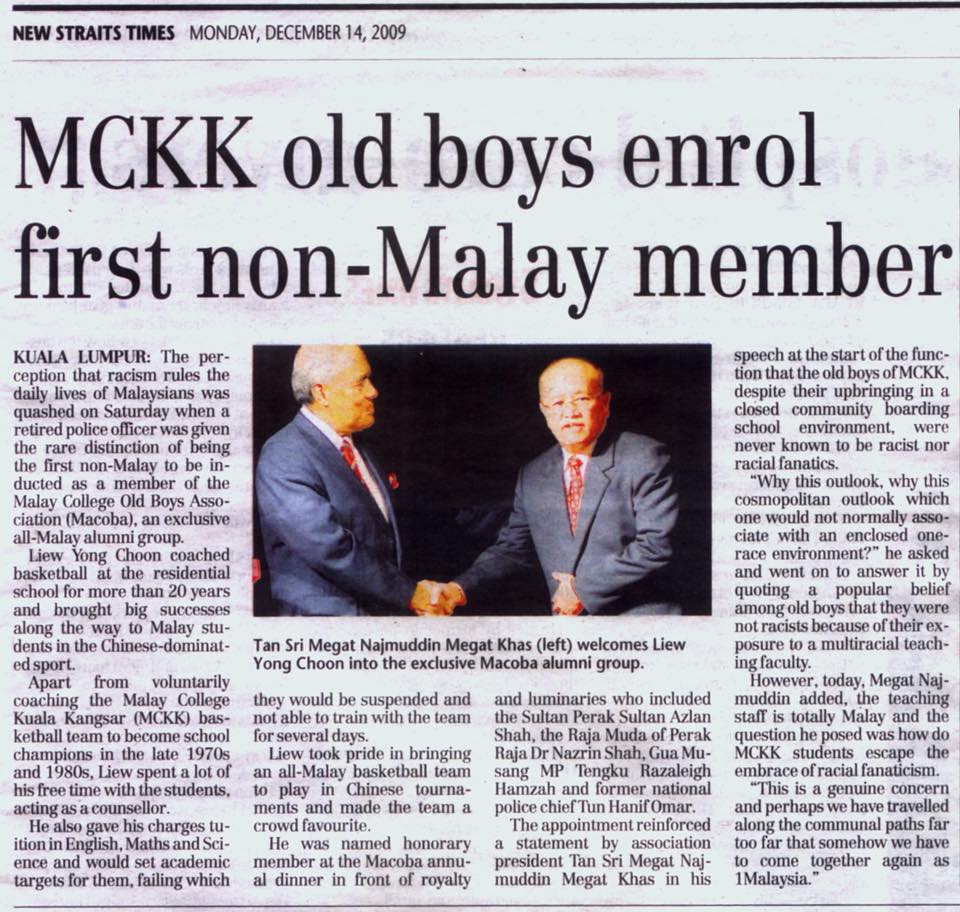 I would like to extend my personal congratulations to Mr. Liew for all his effort for coaching us and not forgotten Beg, Ise and wife for all your support too. As much as I want to give my full support to our team, I have very limited time with my current job but I will definitely try my very best wherever possible.
Once again CONGRATULATIONS MC Cagers! And THANK YOU Mr. Liew, the Coach!
Supt. A.Aziz Salleh (C'78)
---
A parody sung to the tune of the theme song of the 1970 movie THE LOVE STORY:
Where do I begin,
To tell the story of how great McCagers can be,
The inspired story that is older than the sea,
The simple truth about the moves he brings to thee,
Where do I start?
With his first hello,
He gave a meaning to this basketball world of mine,
There'd never be another coach another time,
He came into our life and made our play seems fine,
He fills my court!
He fills my sole with special dribbling,
Do 3 pointers with wild imaginings,
He fills my sole with so much move,
That anywhere I go I'm never lonely with his groove,
Who could be lonely?
I'll reach for his hand, it's always there.
How long does it last?
Can McCagers be measured by the hours in a day,
I have no answers now but this much I can say,
I know we'll need him till the stars all burn away,
And he'll be there.