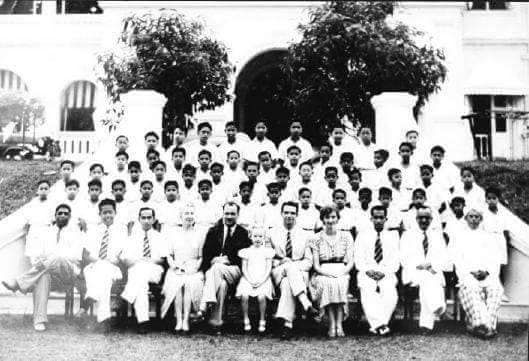 The King's Pavilion (KP) Kuala Kangsar was part of MCKK from 1950-1960 and later known as Government English Girls School (GEGS) and now as SMK Raja Perempuan Kelsom. It became the residence and school of the most junior classes. The former Guard House, manned by the Sikh Sepahis/Sepoys was turned into the Surau-cum-Quran classroom for KP.
A portion of the KP facing East was for some time used as the Kuala Kangsar District Drainage & Irrigation Department. The Resident-Masters of KP were Mr. Davidson (1951-1954), Mr. Wilson (1954-1955) a.k.a Sir Anthony Burgess, Mr. Morley (1955-1956) and one other.
When the MCKK, pursuant to the new Education policy of post-Merdeka became fully secondary, in 1960, KP was returned to the Government and given to GEGS.
Seen here at the Kings Pavilion Boys 1952 with their teachers and prefects.
Seated: Mr. Gawthorne, Prefect Ismail, Prefect Bakri, Matron Thompson, Mr. Davidson, Carol, Mr. J.D. Luke, Mrs Luke, Prefect Zamani Ahmad, Mr. Partridge, Ustaz Haji Ghazali.