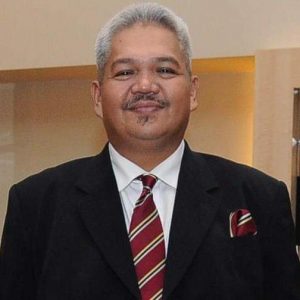 Heartiest congratulations to Sdr. Amrul Hazarin Hamidon (Maol – C'85) for being appointed as Honorary Secretary of Malaysia Rugby Union (MRU). He also serves as the Vice President of Kuala Lumpur Rugby and Tournament Director of MCKK Premier7s since 2011. He has held the KLRU Development and Tournament Director from 2007 to 2017 and holds the position of team manager of the Piala Agong Kuala Lumpur 2006-2008.
His appointment was decided at a council meeting at the Malaysian Olympic Council House yesterday, chaired by Datuk Shahrul Zaman Yahya who remained the post of President of MRU after defeating challenger, Tan Sri Abd. Halim Karim in the election.
Amrul, 51, also has professional experience as Chief Executive Officer of Nobelsys Solutions & Services Sdn. Bhd., General Manager of MRL Resources Sdn. Bhd., General Manager of Country Edge Sdn. Bhd. and Utusan Melayu (M) Berhad Marketing Manager.