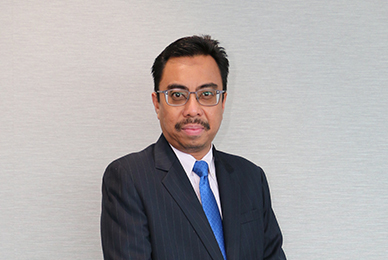 Heartiest congratulations to Hairil Yahri Yaacob (C'88) on his appointment as the director of SIRIM Berhad.
Hairil Yahri Yaacob is the Deputy Secretary General (Investment), Ministry of International Trade and Industry (MITI). He began his career in the civil service as Assistant Secretary of the National Security Council at the Prime Minister's Department in 1995. He also served as the Assistant Secretary East Asia Division at the Ministry of Foreign Affairs in 1996.
In 1998, he was the Assistant Secretary of International Relations Division at the Ministry of Plantation Industries and Commodities and in 2005, he served as a Counselor (Economics) for the Permanent Mission of Malaysia to the World Trade Organization (WTO) Geneva in Switzerland.
He has also held various positions as Principle Assistant Director of Investment Policy and Trade Facilitation Division at MITI, Director of Strategic Planning Division at MITI, Minister Counselor (Economics) at the Embassy of Malaysia in Washington D.C. and Senior Director of Regional and International Relations Division at MITI – Asia Pacific Economic Cooperation (APEC) Senior Official for Malaysia, representing Malaysia at all APEC Senior Officials' Meetings (SOM).
He was also the Senior Director, Sectoral Policy Division at MITI, who was responsible for formulating and reviewing policies and strategies for development of the manufacturing sector. In 2019, he was the Deputy Secretary General (Investment) at MITI, who was responsible to plan, formulate, develop, implement and monitor policies and strategies related to investment affairs, trade facilitation and e-commerce.