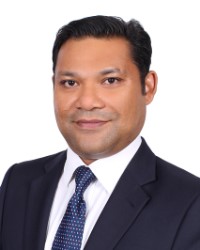 Heartiest Congratulations to Munir Abdul Aziz (C'90) on his appointment as the new Managing Partner of Wong & Partners, member firm of Baker and McKenzie International. We wish him all success in his future endeavor.
Munir Abdul Aziz has been in practice since 1998 in mergers and acquisitions, corporate reorganisations, equity capital markets work, venture capital and private equity, joint ventures and general commercial transactions. He has been named by IFLR1000 as "Leading Lawyer" for Capital Markets since 2013 and for M&A since 2012. He is recommended by PLC Which Lawyer? in Corporate and M&A for three successive years and he has been named as "Leading Lawyer" by Asialaw Profiles for Capital Markets, Corporate/M&A and Private Equity in 2016. He has worked in the London and Melbourne offices of Baker McKenzie International.
Munir Aziz has represented a number of multinational corporations in connection with takeovers, acquisitions, divestments of shares and assets, and joint ventures. He has also worked on corporate reorganisations and de-mergers involving leading publicly listed Malaysian companies. He has also been involved in domestic and international securities transactions including bond offerings and Initial Public Offerings.
He is currently the Honorary Secretary of the Malaysian Mergers & Acquisitions Association.